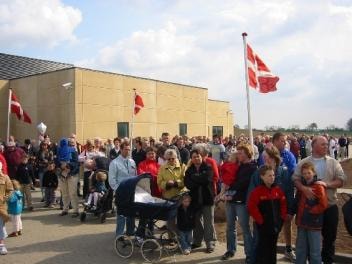 Cuben Christiansfeld - Sports center at Christiansfeld
Cuben is a modern sports hall. The sports hall can accommodate approx. 1500 people.
It offers modern audio equipment and hearing loop for people with hearing-disabilities. The sports Hall is not just for sport, but can also be used for larger events.

The large conference room has facilities for meetings and presentations. Whiteboard, projection screen and fast Internet access. Microphone Installations down speakers & projector can be set.

The foyer is decorated as a relaxing TV room, where you can enjoy a good game of football or just relax for a little TV watching.
When you do not participate in any sport – you can play a game of Pool or Air hockey with your friends. Ask the staff how to get started.