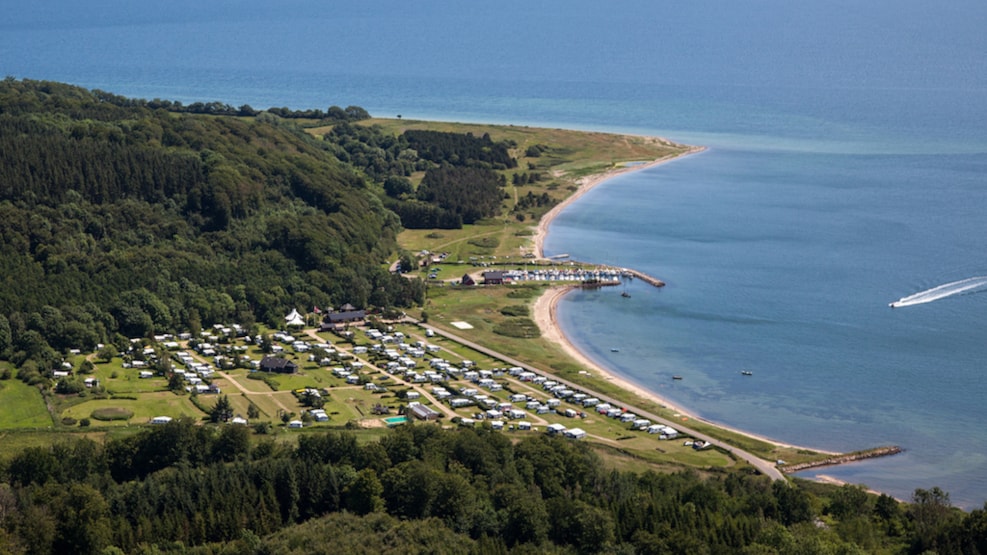 Rosenvold Strand Camping
Rosenvold Strand Camping is a campsite located in a beautiful natural area just up Vejle Fjord. Here there is tranquillity and fresh air while you are surrounded by the harbour, beach, forest and castle.
Coastal holiday at Vejle Fjord
Nature has the seat of honour when visiting Rosenvold Strand Camping. In a peaceful setting, the campsite is located down to Rosenvold beach and the small marina where you can moor with your boat. Rosenvold is located in a part of Vejle Fjord that is characterised by lots of forest and great opportunities for hiking in beautiful settings.
Many options for staying overnight
On the cosy site you can sleep in a caravan, tent or mobile home, and if you do not have your own, you can hire a caravan, family tent or mobile homes.
You also have the option to hire one of the cosy wooden cabins with room for four people.
Lovely site with excellent facilities
You will find all the facilities you could possibly want at the site. There are many service buildings around the site, and one of these has a large kitchen with a dining area and good shower facilities. In a cosy cabin you will find a charming TV lounge.
There is a shop at reception with a good assortment, where you can buy groceries, bread, rolls and Danish pastries or tuck into the large salad bar.
Children can blow off steam on the big playground with a zip wire, bouncy cushion and climbing wall. They are also welcome to visit the cute petting goats, which are very popular with the little ones. Meanwhile, the adults can compete in a game of volleyball, table tennis or pétanque.
Experience the beautiful countryside
The campsite is perfect for hiking in the countryside. To the east you will find the spectacular Staksrode Forest, which has steep slopes down towards the sea, and to the west you can venture out on the exciting 'kurveje' ('spa paths' - signposted footpaths and tracks) at Hotel Vejlefjord. Go for a good long walk along the fjord or explore the many forests in the area.
By the beach you have good wind conditions for kitesurfing, while kayaking along the coast is also an option. If you like fishing, then make sure to bring your rod as there are fantastic opportunities for fishing here.
Bring the dog
Man's best friend is more than welcome at Rosenvold Strand Camping. Here there are good conditions for dog owners, and your dog can run free in the large fenced dog run where it can make new friends or play with its family.
Book your stay
Do you want to camp by the coast amid the beautiful scenery? Book your stay at Rosenvold Strand Camping here.
Destination Trekantomraadet © 2023