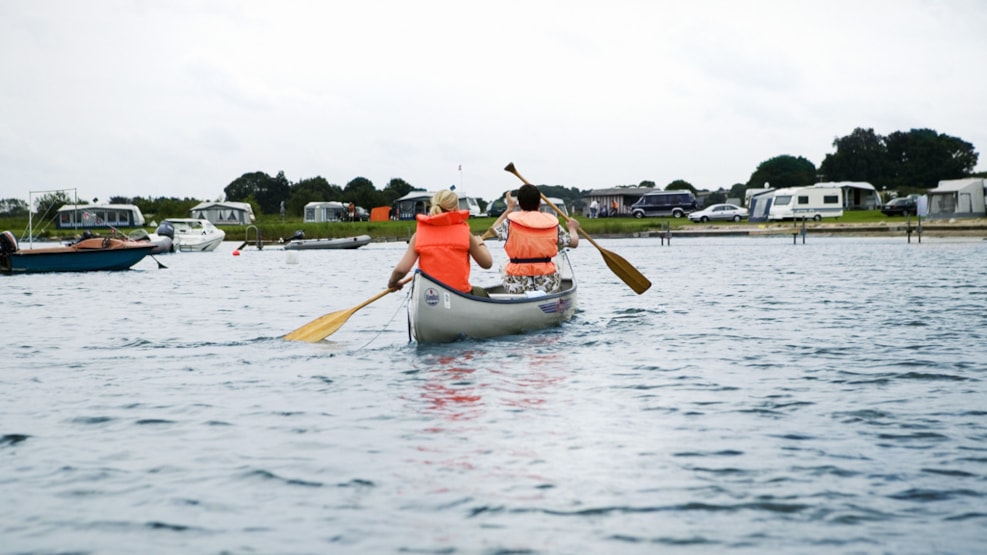 Canoeing around Billund - Sail in a canoe just outside of Billund, and witness the beautiful nature
Aboard a canoe, your senses are heightened - sounds, smells and wildlife are experienced more strongly. Even if you are quite inexperienced, you can quickly learn to sail a canoe. In this region you can canoe from Kølskevad just outside of Billund west to Ho Bay on the west coast of Denmark.

Three canoe trips in the Billund area:

Grindsted Stream
The trip starts by Morsbøl Bridge, where the stream is largely unregulated. After Morsbøl Bridge, you pass several meadows and the "living" museum farm Karensminde, where you can experience how a Danish farm was run in the interwar period. On the last stretch before Grindsted Stream flows along with Ansager Stream, is Ansager weir, which raises the water level around 2 meters. 

Ansager Stream 
Put the canoes in the water where Kølskevad Creek crosses Lundgårdsvej and runs out into Ansager Stream. By Stenderup/Krogager you pass Krogager fish farm, and here is a portage, i.e. the canoe has to be carried a few meters on land. From here you head to Ansager Mill Fish Farm in Ansager, where there is another portage. West of Ansager the stream runs together with Grindsted Stream and forms Varde Stream. The trip on Ansager Stream takes you through a pronounced river valley characterized by extensive agricultural use of grazing and haying here and there.
Holme Stream 
The tour starts in Starup/Tofterup and it runs through varied terrain in a wide river valley with meadows, moorlands and forests. At Hostrup weir 95% of the water is led into the Holme Channel. Old Holme Stream is closed for canoeing, but continue the trip on the channel. The channel ends in Karlsgårde Lake, where you can also spend the night and continue your journey on Varde River the next morning.
Canoe Rental Around Billund
In the area there are two canoe rental companies - one in Grindsted and one in Ansager. You will find prices and contact information at www.kanoture.dk and www.vestjyskkano.dk/ respectively.

Source: www.kanosiden.dk. Translation: VisitBillund 
Destination Trekantomraadet © 2023