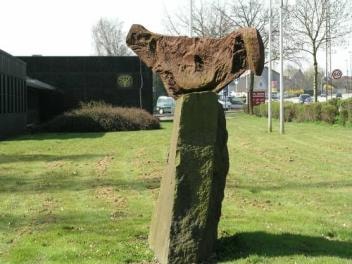 Damaskvæverfuglen in Kolding
Damaskvæverfuglen

-Made of granite and steel in 1997.
-Set up in 1997 by A / S Georg Jensen Damaskvæveri, Dieselvej 1st
-Gift to the Municipality of Kolding from Georg Jensen Foundation.

The Damaskvæverfugl from Erik Heide is standing on a giant, rough granite stone on a lawn by Georg Jensen Damaskvæveri.

The bird appears rustic and gritty as its base, and yet it is recognizable.
With his head peeping out over the stone edge is similar to a bird as any other - in search of something edible.
Destination Trekantomraadet © 2023