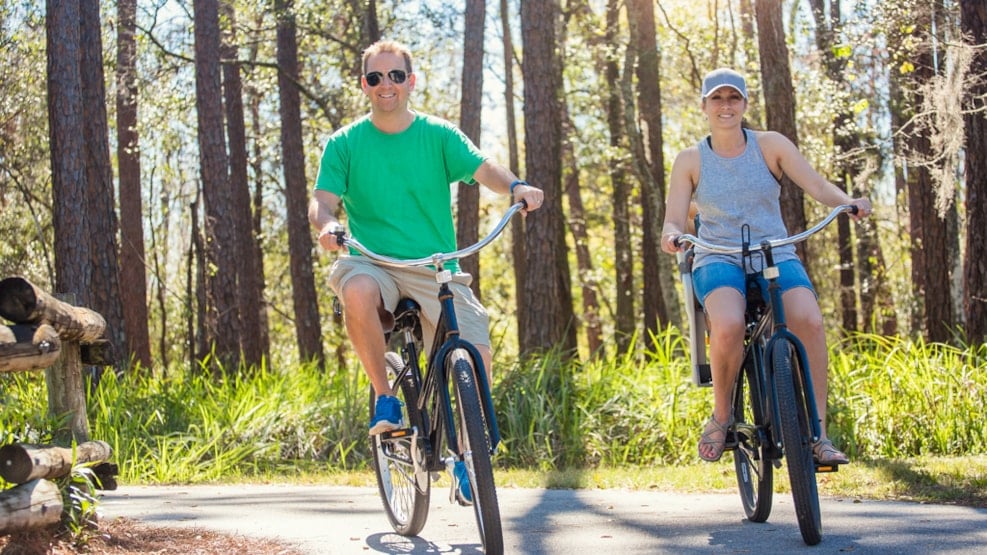 Drejens Halvø - T14 - Bicycle route around Kolding
Sønder Vilstrup Skov - Nørre Bjert - Drejens Halvø - 11,3 km
The route from Herslev to Kolding follows national route 55 and is an attractive ride in slightly hilly terrain. Along the way you will see varying scenery with green hedges, low dams and woods. Route 55 joins national routes 5 and 6 at Nørre Bjert. At Elvighøj there is an excellent view of both the Kidholmene islands and Skærbækværket and a chance of a refreshing dip.

If you are interested in design and art, we suggest you continue the ride to Trapholt Museum, also called 'Jutland's Louisiana'. The museum was inaugurated in 1988 and is situated in an attractive park with a view over Kolding Inlet. You can also visit the Danish Nursing History Museum to look at the development of nursing care through the ages. The museum is located in the former Christmas seal sanatorium from 1911 whose main building now houses the modern Koldingfjord hotel and conference centre.
Under "Links" at the bottom of the page you will find a link to the route in Naviki. Here you can register as a user, after which you can enter the route and save it under "my routes". Then you can download the Naviki app and open up and find the route under "my routes" to follow the route.
Sights
1. Trapholt Museum
2. Dansk Sygeplejehistorisk Museum
3. Drejens Halvøen
4. Elvighøj
5. Houens Odde
6. Gudsø Mølle
7. Fodbold Golf
Accommodation

Hotels / Inns
Hotel Koldingfjord
Comwell Kolding
Bed and Breakfast
Sysselbjerg B&B
Villa Terne v. Jeppe Løgstrup
Maybom Kolding
Tour suggestions
T10: Kolding Ådal og Hylkedalen
T12: Christiansfeld
T13: Middelalderruten
T15: Elbodalen
T16: Troldhedestien
T17: Kongeådalen
T18: Lillebælt Classic
T19: Østkystruten
See Links section for map. If you need GPX files for GPS, follow the link to the route map and download it from there.
Have a great trip!
Destination Trekantomraadet © 2023