Explore Naturpark Lillebælt. With a Be Happy Pass
Enjoy a family day out in stunning scenery. Swim, snorkel, hike, light camp fires, go crab fishing and whale watching and much more.
Help nature. Fish for crabs. 
Come and get a crab-fishing kit and go crabbing with your family. You are helping nature. There are far too many crabs. Get the young explorer's guide to more wild adventures.
If you have a free Be Happy Pass
Start at Fredericia Library and Welcome Centre. Show your Be Happy Pass. Get a badge and a build-your-own crab fishing kit
And pick up the young explorer's guide to other fun activities in the Nature Park.
About Naturpark Lillebælt
Naturpark Lillebælt is Denmark's largest nature park. Here, we actively work to create a wealth of experiences that inspire everyone to take care of and improve nature in and around the Little Belt.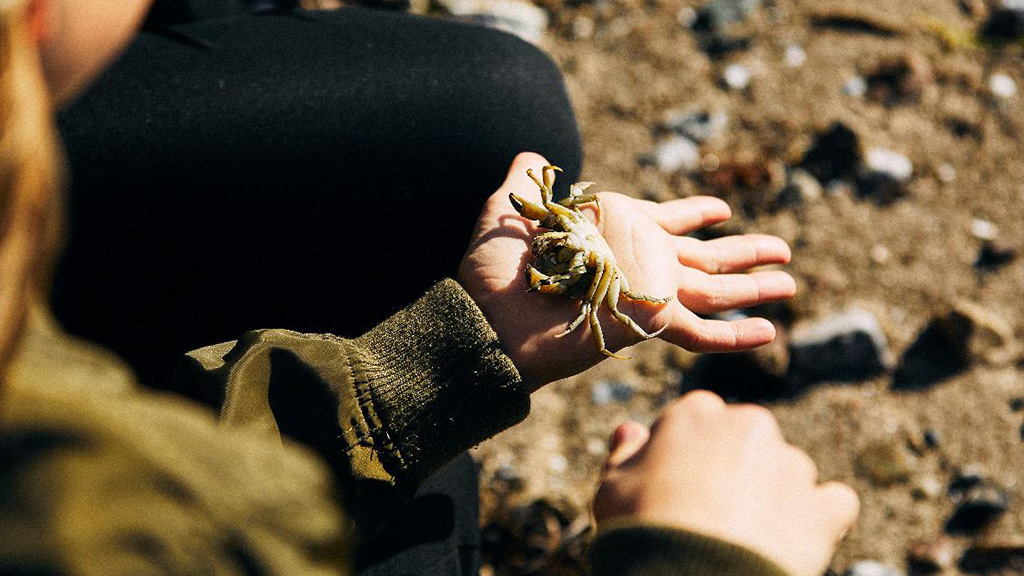 © Naturpark Lillebælt. Photo: Stjernegaard Fotografi.
The Belt is narrow but deep
The waters are quite unique. In some places, the Little Belt is as narrow as a river. And here, too, there is a particularly strong current. This is because the Baltic Sea is supplied with water from over 60 major and minor rivers. And a large part of that water is discharged into the Kattegat via the Little Belt. In some places, the Little Belt is very deep – up to 80 metres in depth. This is due to the last ice age around 10,000 years ago, along with the strong currents.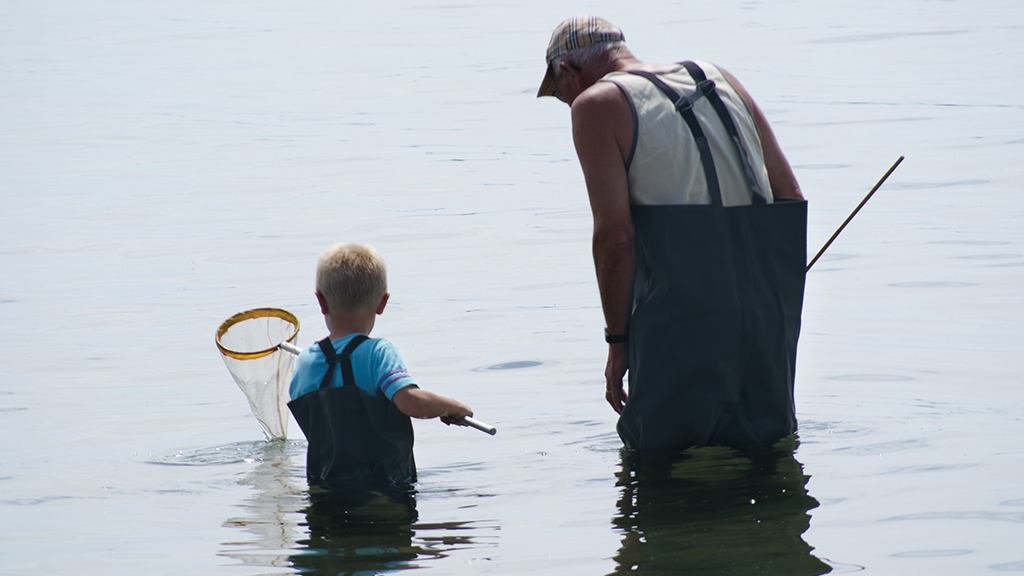 © Naturpark Lillebælt. Photo: Destination Lillebælt.
See white-tailed eagles and whales
The scenery is beautiful. Here you can see large white-tailed eagles and small whales. Because the Little Belt is home to the densest population of harbour porpoises in the world. The harbour porpoise is the world's smallest whale. There are many spots you can go crab fishing. And you're more than welcome to. Because right now there are far too many crabs in the Little Belt. So if you want to help nature, catch a crab or two.
Your the young explorer's guide includes ten exciting activities that you can do with your family - so you can get out into the wild and wonderful nature.
Come on in. Swim. Snorkel. Make twist bread. Try Stand Up Paddle Boarding.
Opening hours at the Welcome Centre at Fredericia Library
Monday - Thursday 10:00 - 19:00
Friday 10:00 - 17:00
Saturday 10:00 - 14:00
Get a free Be Happy Pass here
You'll get a free Be Happy Pass for you and your family when you stay with one of our Preferred Partners
Get cool Adventure Badges for your pass
Take it along with you to the places you find in the pass. When you get there, show them your pass and collect your badge. Many places even have extra offers. You can see all the attractions here.
THE LEGO® MOVIE 2™ © & ™. Warner Bros. Entertainment Inc., & The LEGO Group. LEGO, the LEGO logo, the Minifigure and the Brick and Knob configurations and LEGOLAND are trademarks and/or copyrights of the LEGO Group. ©2023 The LEGO Group. All rights reserved
Destination Trekantomraadet © 2023