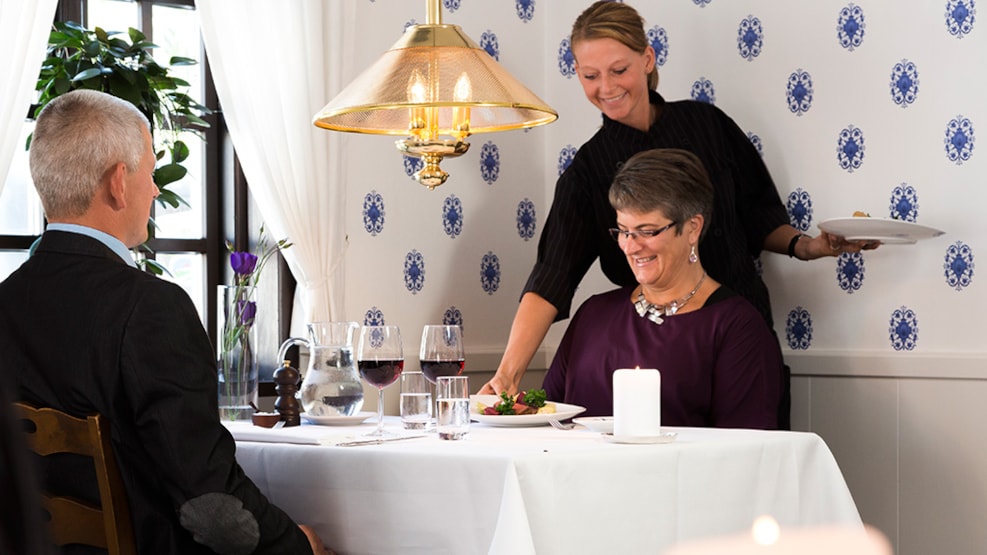 Filskov Kro, Restaurant - Delicious restaurant close to Billund
Filskov Kro presents good-quality food and personal service. There is something for everybody's taste in our menu card, although we put our personal touch on the dishes. At our restaurant we guarantee a fantastic gastronomic experience. The inn is located in beautiful surroundings, while having manageable driving distances to Herning, Vejle and Billund. 
Everything from scratch
All our dishes are made from scratch with the best and fresh ingredients - we smoke our own salmon and bake our own bread. This is our way of guaranteeing that everything in our restaurant turns out the way we want it to. It is our ambition that you will get a good experience – and we believe that you will due to our fantastic dishes made with personality and from local ingredients. 
Visit our restaurant
After a visit in our restaurant you can't help but smile. If you get hungry, you can book a table at our restaurant today at this phone number, +45 75 34 81 11, and it will be our pleasure to serve you one of our many dishes. In our restaurant in Filskov Kro you can order dishes drom both the Danish and the French cuisine – you will find everything from Wienerschnitzel and French fries to gourmet food on our menu card. 
Lunch from 12:00 to 02:30 p.m.
Times can vary according to season, contact +45 7534 8111
Destination Trekantomraadet © 2023