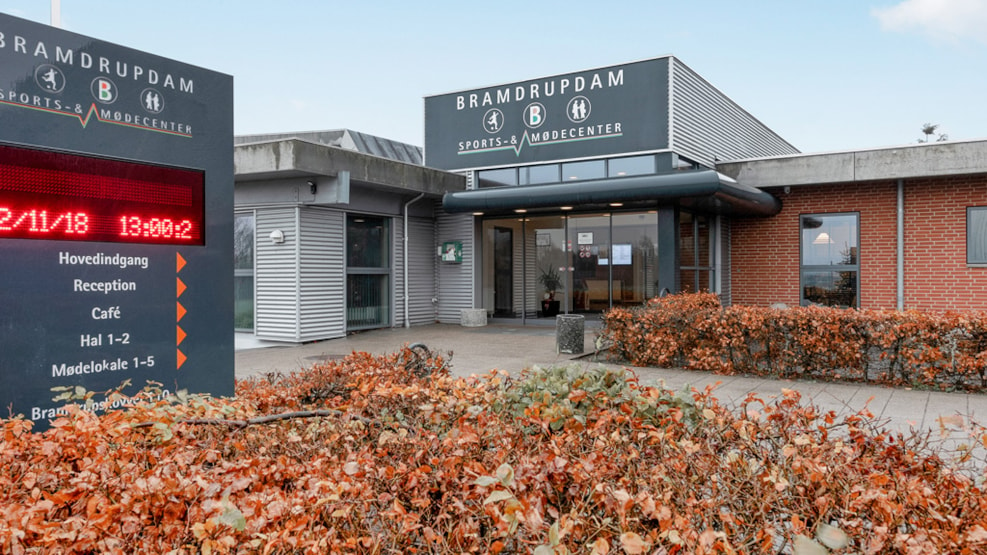 Forum Kolding Bramdrupdam - Meetings and conferences with up to 800 participants in Kolding
At Bramdrupdam Sports- og Mødecenter it is possible to have a different meeting in an active environment. Here is the opportunities to have meetings around a meeting table, have an active break with a game of badminton, and enjoy the home-cooked food.
When you are to hold a meeting, course or conference in Kolding, we can guide you and help you from start to finish with making the right contacts, finding the perfect surroundings, or providing inspiration. 
Hold a different meeting with a focus on sports and activity
A meeting or conference is only good if you and your meeting participants manage to enrich, challenge or develop each other. At Bramdrupdam Sports- & Mødecenter, we have created the framework for you to unfold.
Whether you prefer to hold the meeting around a table or would like the opportunity to take a break from a long day with a quick game of badminton or a walk-and-talk, you will find what you need here.
Our skilled chef offers high-quality, home-cooked food, so that catering and professional learning form a synthesis.
Rooms
We have six meeting rooms that can accommodate from 2 to 240 participants.
All meeting rooms have free WIFI, projector, flipchart, speakers and whiteboard.
Website - Bramdrupdam Møde- og Konferencecenter in Kolding 
At Bramdrupdam Sports- og Mødecenter, you can hold a different meeting in a sports setting. You can hold meetings at a meeting table, take an active break with a game of badminton and enjoy the homemade food.
Destination Trekantomraadet © 2023