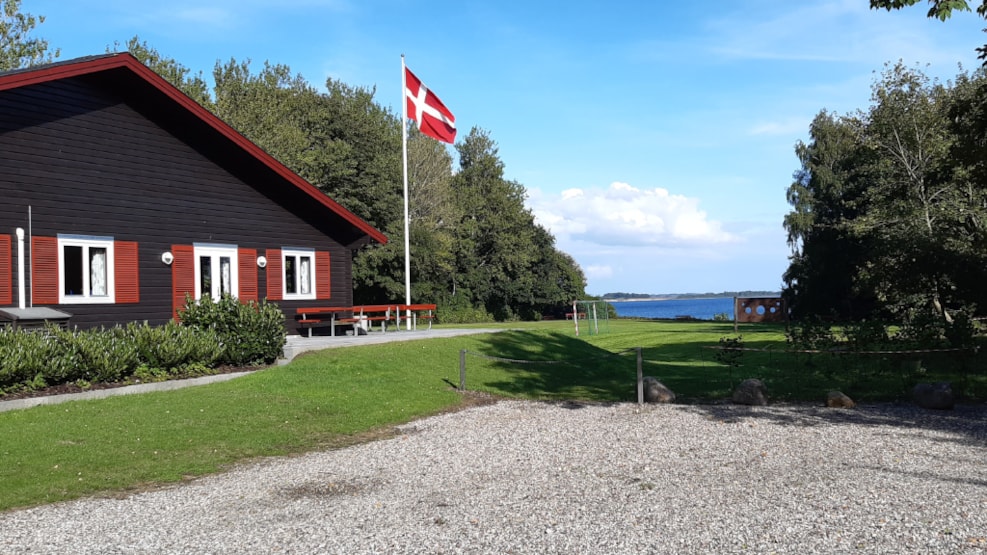 Frydenborglejren - Large rental cabin directly on the beach close to Kolding
Frydenborglejren
Frydenborglejren is situated on 11000m2 placed directly to the Little Belt with sandy beach where you can swim.
The buildings consist of a timber house of 325 m2 and a log cabin (annex) of 95 m2. There are 6 bedrooms in the main house with 8 beds in each bedroom, 2 large toilet / bathrooms and 2 disabled toilets with shower. In the annex, there are  4 rooms each with 2 beds and a bathroom with toilet and shower. 
Well equipped large kitchen with gas stove, various pots and pans in all sizes, dishwasher, washer, dryer, 2 coffee makers, large and small freezer.
Outside there is a fireplace with shelter and benches, and 2 covered barbecues and tables with benches. 
Playground, outdoor table tennis (bring your own bat and networks) great lawn with smaller goals and a slope to the beach. 
You can get more information on
www.frydenborglejren.dk
Destination Trekantomraadet © 2023