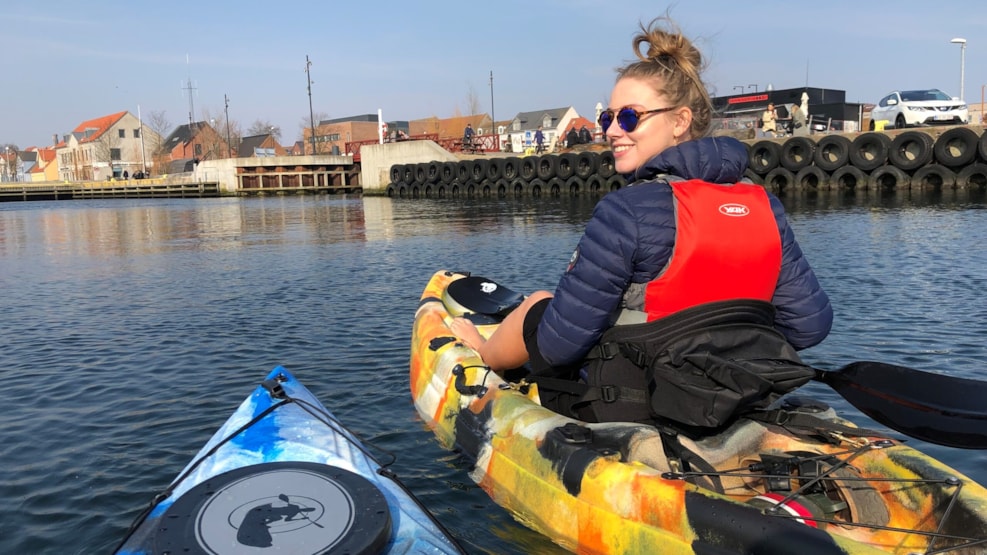 Get Outdoor
Experience and explore the nature with Get Outdoor.
Experience nature and outdoor life at Naturpark Lillebælt
Get Outdoor plans and tailors experiences in the nature both on land and at sea in the natural area around Fredericia and Naturpark Lillebælt, focusing on activities in nature and group dynamics. Get Outdoor offers the perfect setting for your next teambuilding-experience, bachelor party or other festive occasions. Lend equipment for activities like climbing, mountainbiking, kayaking or spend time at Get Outdoors very own Ourdoor Camp in beautiful natural surroundings. 
Get Outdoor wants to share and pass on the love of nature and outdoor life while creating experiences that encourages self growth and fellowship in a safe environment. Get Outdoor ensures a proffesional, safety approved setup with well-educated outdoor experts and guides.
Get Outdoor also organizes tours and courses throughout Scandinavia. Contact Get Outdoor for more information!
Get Outdoor: Book activities and courses 
Get Outdoor offers a wide variation of outdoor themed activities and courses. Try for example kayaking in the Little Belts beautiful nature. Here you get the opportunity to get close to the many purpoises that live under the surface. You can start by renting a kayak and / or taking a course of either 4 or 16 hours so that you are prepared to go on your next adventure. Or learn to ride a mountain bike, where you learn techniques and enjoy your exercise and getting around in the woods in a different way.
Get Outdoor also organizes outdoor trips, which is a fun way to spend a day together, where you will have time to enjoy nature while you will be challenged and maybe meet your boundaries. There will be plenty of opportunity to enjoy both the silence and the nice views in the area during an outdoor trip. The trip can e.g. go to Trelde Næs, which is one of Denmark's most beautiful natural areas, it can also be a kayak trip around the Nature Park Lillebælt to visit the many sights from the sea.
See the planned tours and courses in our event calendar!
The Outdoor Camp - a new outdoor area in Fredericia
The Outdoor Camp is Get Outdoors very own outdoor area just a few minutes from Fredericia. The Camp is located in the middle of an old christmas tree farm and is well suited for events, parties, teambuilding or conferences and other kinds of events with an outdoor theme.  
The Outdoor Camp consists of four main areas:
The Oasis, a glamping shelter spot with electricity, water, campfire kitchen and a wood fired hot tub, the Tipi Area/Bar, the Partytent and the indoor facility.
Contact Get Outdoor for futher information and booking schedule!
Kayak or mountainbike rental near Fredericia and Naturpark Lillebælt?
If you want to explore the beautiful surroundings and natural areas located in Naturpark Lillebælt on your own, Get Outdoor offers kayak or mountainbike rental.
Rent kayaks or mountainbikes here!
Share and explore on Instagram
Destination Trekantomraadet © 2023