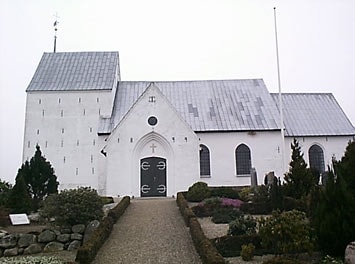 Harte kirke - Located close to Kolding - Romanesque church from the end of the 12th century
Harte Kirke is a Romanesque church built in the late 12th century. The church is beautifully situated on a hill in a hilly terrain with a wide view.
In Harte Kirke you are always welcome. We believe that a church should be for everyone, and we strive to offer services and events that are relevant to ordinary people today.
On the other hand, a church is not primarily defined by being a service body, but a community of people. Harte Kirke is thus about much more than relevant events, and we want not only to be influenced by the employees at the church, but also by both the active churchgoers and the parish as a whole. That is why we have a strong focus on volunteering of various kinds, and on being a place where it is easy to find a good community to be part of.
Over time, Harte Kirke has been restored on several occasions, including:
Window in the left part of the tower in 1844
New altarpiece in 1905
Inlaid electric light in 1920
Cushions on the church pews in 1963
Installation of central heating, a new staircase and reorganization of the floor in 1967