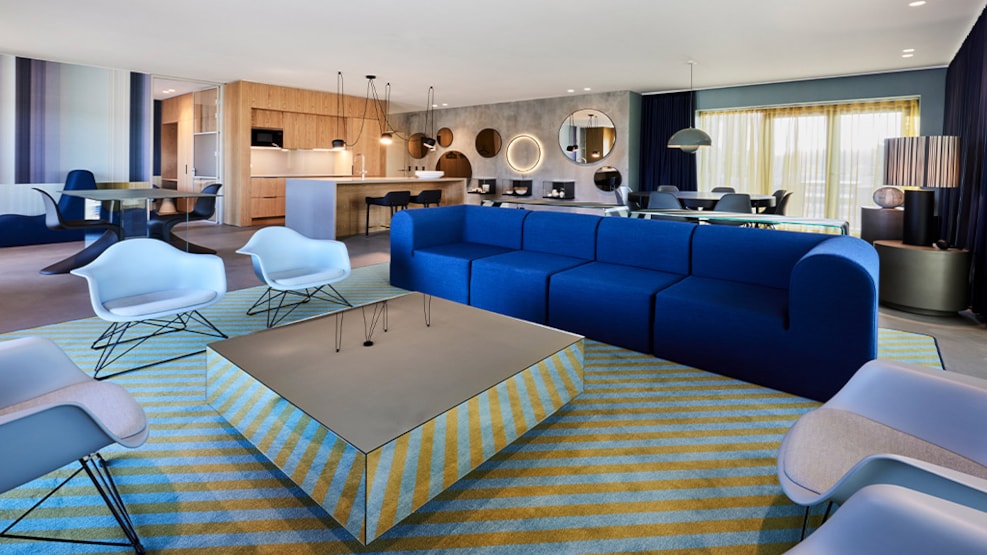 Kirk Suites
Kirk Suites is annexed to the neighbouring Zleep Hotel Vejle and is an exclusive short and extended stay apartment concept of high-class design and quality. Every single apartment at Kirk Suites offers amazing views of either the inlet, the forest or the town.
The apartments at Kirk Suites vary in size. They all feature a dining area, a fully-equipped kitchen and a bathroom. They are designed to meet all your needs, regardless of the length of your stay or the purpose of your visit. All the apartments are furnished with a selection of designs by Panton, Flos, Paustian, Prostoria, &Tradition and Eames. Emphasis has been given to capturing the very essence of a home away from home.
The large window sections offer a wonderful influx of natural light, allowing the nature outside to complement both the interior décor and colour palette, which are unique to each apartment.
Kirk Suites is connected to Zleep Hotel Vejle via corridors on the first, second and third floors, which allows resident guests at our apartment to enjoy the many amenities offered by the hotel, including digital check-in and check-out, a rooftop terrace, housekeeping, fitness facilities and bar and lounge areas with panoramic views.
Kirk Suites is located on Havneøen and is part of the new harbourfront development in Vejle. Here, architecture, art, and the surrounding sea are important aspects of this development, which in combination with the scenic coastal landscape will ensure a pleasant stay at Kirk Suites.
Kirk Suites is located within walking distance of the Vejle Inlet, the woodland and the heart of town with its prime shopping opportunities. Vejle also invites you to experience a wide selection of culinary delights, which are guaranteed to titillate your taste buds. In the Vejle harbour area alone, you will find both the Italian cuisine restaurant Enzo & C and restaurant Remouladen. Directly opposite Kirk Suites, you find the iconic building Fjordenhus, which is home to the Michelin-starred restaurant LYST.
Destination Trekantomraadet © 2023