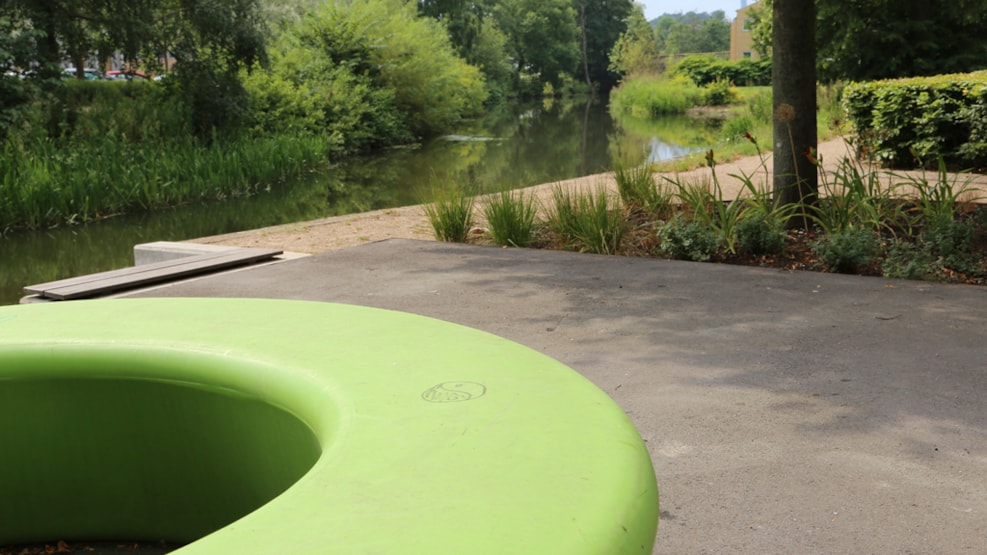 Kolding Åsteder - for children - Small play places along Kolding Å and in the center of Kolding
Here in Kolding, we have a number of exciting, outdoor spaces and playgrounds called "Åsteder", where you can have fun with your friends, relax, play and do your favourite sports.
The 15 uniquely designed spaces are located along the river. They give the surroundings a very special character, which you can enjoy and experience on first hand, if you decide to take the unforgettable tour in this particular area of the city. Be prepared to encounter creative shapes, attractive colours and uncountable sizes of toys on this adventure, which will inspire you to explore each "Åsted", and at the same time challenge your body, mind and fantasy.
Amongst other things, you can find the big, flat steel ball, reflecting its own environment and pulling the sky, nature and buildings into one spot; a gigantic mirror that gives you a completely new and fun perspective of yourself and your surroundings.
If you are interested in the world of water animals, you should definitely visit the newest "Åsted" in the city, where you can look at the fish and find out what happens deep under the surface of the river through an underwater camera. Stop by the other "Åsted" called Aquarium, and be a part of the water lab, where you will need to take a sample from the river and put it in a transparent cylinder. Through this cylinder, you will get a great opportunity to study and explore life in the river.
The "Åsteder" offer you the most diversified nature experience that you can imagine, which is unique, interactive and takes place in beautiful, green surroundings. You can absolutely spend an entire day on this tour, especially if you are a curious explorer, interested in everything that happens around you.
Destination Trekantomraadet © 2023