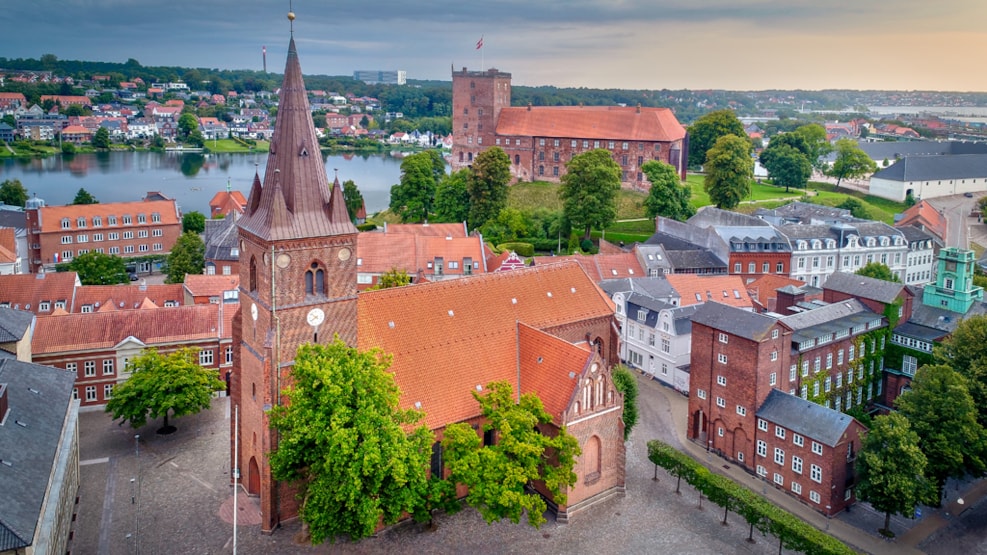 Sankt Nicolai Church in the center of Kolding
Discover Kolding's oldest church from around the year 1250. The church is open to visitors every weekday and during the summer period also on weekends.
Saint Nicolai Church
is from around 1250 and the oldest church in Kolding, but only few parts of the original building are preserved. The present exterior is from 1885-1886, and the interior decorations are mainly from a restoration in 1753-1758.
The historic fixture
The altarpiece is from 1589-1590 and was paid for by the vassal of Koldinghus, Casper Markdanner (vassal 1585-1617). It is made with inspiration from the Dutch copper engraver Hendrick Goltzius.
The pulpit with the sounding board from 1591 with the escutcheon of Casper Markdanner and the letters "G.M.B", short for his motto: Gott mein Beistand.
The sandstone baptistery with evangelist symbols on the sides was made in 1619-1620. Above the baptistery, you see a carving from 1636.
Several epitaphs and headstones bears witness of the use of the church throughout centuries. At the church's website, you can read more about the individual families these epitaphs were set for.
The painted glass windows in the church choir were created by Professor Kræsten Iversen, who worked on them in the years 1945-1950, where they were consecrated in connection with a great 700th anniversary of Saint Nicolai Church.
The organ with 57 voices was built by Marcussen & Søn, Aabenraa. The organ is made of oak with gold ornaments and was put into service in May 1977.
The chimes in the Church Tower were installed in 1973; it has 48 bells in varying sizes, and it can be heard 7 times a day in different seasonal tunes.
Everyday life in the Church
The Church is open for visitors all weekdays and during the summer weekends as well. You are welcome inside for a quiet moment or for looking at the interior. You can also light a candle. Information folders are available in the Church.
Services are held every Sunday at 10.30 am.
You can find more information in English at the church's website.
Destination Trekantomraadet © 2023