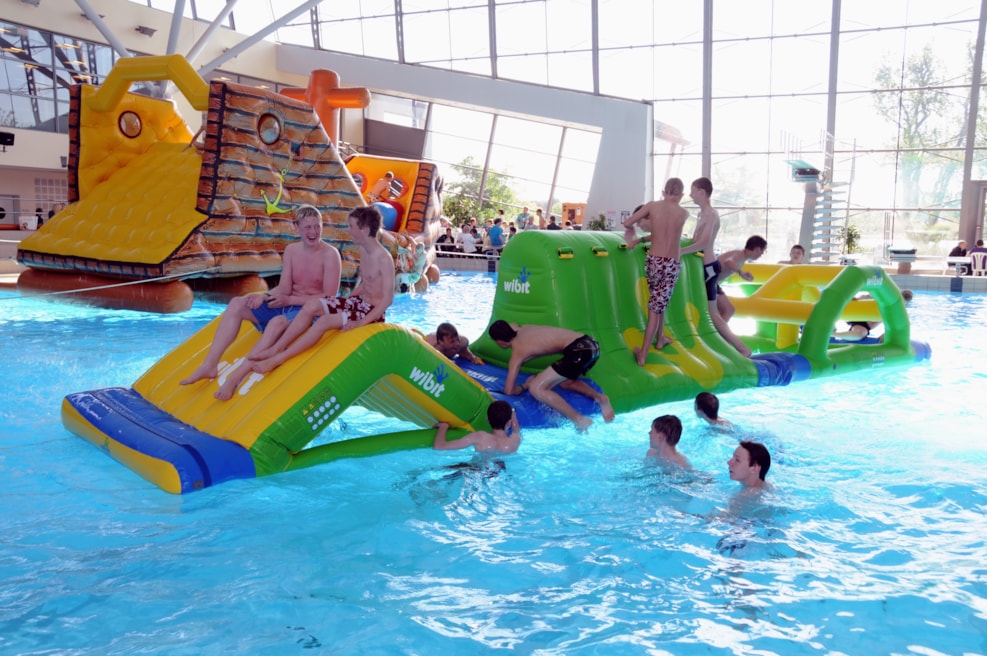 SlotssøBadet - for children - Water park and swimming pool in Kolding
The Slotssøbadet has everything for both adults and children! 7 different pools, ranging from competition pool to hot tub.
Swim, splash, sprinkle and have fun with water at Slotssøbadet in Kolding. This place offers you tons of water games in seven different pools in a tropical climate, each of them offering their own, special universe. Are you ready for a day full of activities, competitions and maximum cheerfulness in this fantastic water park? 
If you would like to challenge your muscles and body strength and you are a good swimmer, then the bigger and deeper pools are for you. Here, you can climb the gigantic, water sport inflatables, which, like calm mountains, rise from the water. Jump into the deep from two heights and ride the chain of waves, when the counter flow reaches you. The aquatic adventures continue with the 55-meter long slide, which we promise will boost your adrenaline within seconds.
Remember to meet and greet the one and only sea lion in the house, living in the small pool. He invites you to play in his own territory, visit his cosy bamboo hut and try the mini-slide. Here, you can also experiment with the popular cannon, with which you can target and sprinkle water metres away.
If you are looking for even more excitement, do not hesitate to explore the super-cool Spray Park. Here, water sprinkles from every direction, installation and height. You don't have to step into a pool for this experience. The fun happens on the floor, which is soft and not slippery, so you do not hurt yourself, if you fall. It will be a completely new adventure for you and your family, where you can compete with each other to see, who can go through the obstacle course the fastest.
Have fun, conquer the water and please come again!

In SlotssøBadet Water Park you will find;
-Slide of 55 m.
-Fun-pool
-Whirlpool
-Outdoor terraces
-Hot-tub
-In addition, saunas, steam room, cold water pool, etc.
SlotssøBadet Spray Park – a completely new attraction in Denmark - a water playground for the whole family - full of fun, play and safety in the focus.
There will be a variety of events all year round - see more on www.ssbad.dk 
Opening hours
Monday+Wednesday: 5.30 AM to 9 PM
Tuesday: 6 AM to 10 PM (from 8 PM only adults +15)
Thursday: 6 AM to 10 PM (from 7 PM only adults +15)
Friday: 5.30 AM to 10.30 PM
Saturday+Sunday: 9 AM to 6 PM
Destination Trekantomraadet © 2023