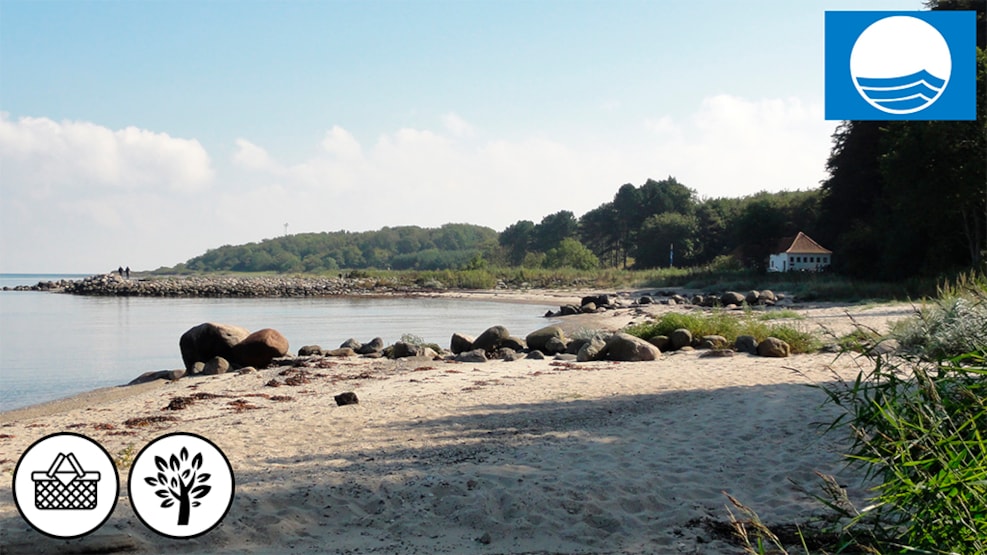 Trelde Næs Beach
Trelde Næs beach is a beautiful natural beach for the whole family.
Swimming in a beautiful setting
Visit Trelde Næs Beach and enjoy a day by the water with the forest as your backdrop! The beautiful natural beach is a direct extension of the large protected forest area that covers Trelde Næs.
Despite being a natural beach, the swimming conditions are excellent; Trelde Næs is a Blue Flag beach and has a fine sandy seabed with a gentle slope, making the bathing conditions particularly child-friendly.
Here, at the end of the salt marsh, you will also find the Trelde Næs Nature Centre, where you can borrow equipment and learn more about the area.
Facilities
Parking: Free parking is available in Trelde Næs' large car park, just a few minutes' walk from the beachfront. The address is on the right. See the address in the blue box on the right.
Toilet facilities: There is a toilet block at Trelde Næs Nature Centre. The toilets are usually open all year round but may be closed for periods in winter due to the risk of frost damage. A disabled toilet is located by the farmhouse in the car park.
Food and drink: The wide stretch of grass has tables and benches and designated fire pits. It is not possible to buy food or drink at Næsset, so please bring your own food supplies. Bins are located in the area.
Water activities
There are plenty of things to do near and in the water. The area is good for various types of surfing and SUP, as well as snorkelling via the snorkel trail.
Combine a trip to the beach with a picnic
There are plenty of fun things to do at Trelde Næs. The area has a well-developed trail system that allows you to discover the area's flora and fauna and also takes you past the distinctive mud flats and cliffs that dominate the coastline.
Read more about Trelde Næs' nature, special history, and all that the area has to offer here!
See what others are sharing on Instagram
Destination Trekantomraadet © 2023