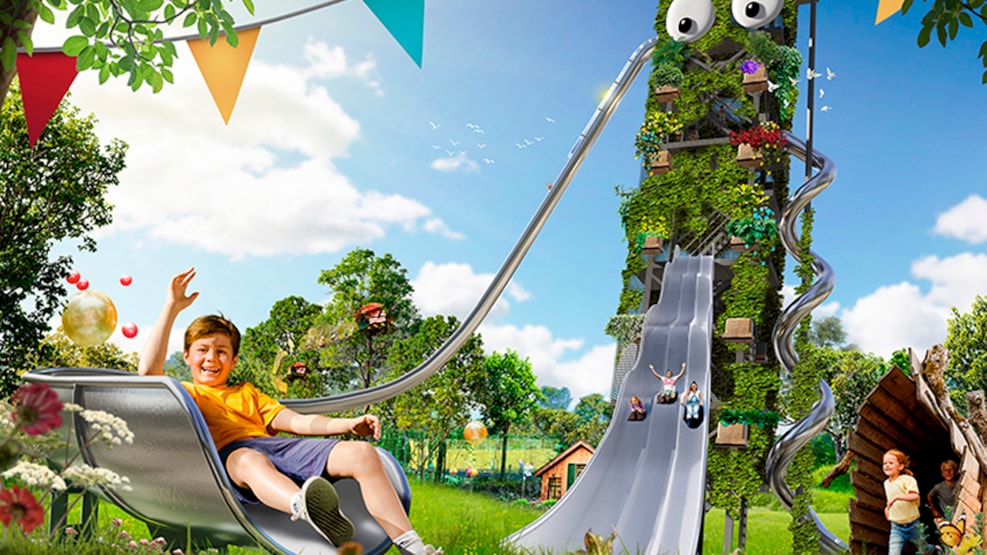 WOW PARK Billund - Fantastic experience in Billund
WOW PARK Billund 
The wildest play and amusement park in the great outdoors
The wildest play and amusement park in the great outdoors
Welcome to WOW PARK – a huge play and amusement park in the middle of the forest, where families can adventure together up in the treetops, on the forest floor, underground, and even among the waves – all in a safe and beautiful environment.
WOW PARK features lots of open space, fresh air, and a stunning natural area spanning an area larger than 40 football fields.
The GIANT – CRAZY new attraction in WOW PARK Billund
In Scandinavia's highest free fall slide tower – the GIANT - the bravest guests can try the LIGHTNING – the park's new 20-metre free fall slide or one of the 2 other cool slides. The whole family can experience the spectacular view from the top of the tower in 25 metres height!
Try the 3 crazy slides!
- The LIGHTNING – reach your maximum speed with the 20-metre free fall slide.
- The SPIRAL – spin like crazy in the wildest forest.
- The FOREST RACER – race with your friends. Who will come first?
Are you ready for a crazy experience? Reach your top speed with the free fall slide – if you dare!
Treehouses, giant slides and suspension bridges 14 metres high
Have you ever played in the treetops? Swooshed down slides at full speed? Run from tree to tree on high-flying bridges? Do it all at WOW PARK, a magical place full of sky-high fun. And be sure to try our 40-metre long sledding run, where you can zoom down the hill, even in summer.
Wild ziplines, giant swings and high-hanging cargo nets
Race down ziplines at full speed and challenge each other to a wild contest on the Giant swings. Jump and play among big bouncy balls in one of our treetop nets up to 300 sq. meters in size.
Underground caves, secret hideouts and a giant maze
In WOW PARK's underground universe, you can crawl on all fours and discover hideouts among secret entrances and winding paths. Above ground, the entire family is challenged to find their way through the wooden twists and turns of the willow forest and the fun, mysterious labyrinth.
Water World - a great splash of fun
You're never too old to play with water! In Water World, you can tip over the barrels and spill water all the way down the mountain, making small floods and fun waterfalls.
Let the games begin!
Compete with Mom and Dad in a balance contest, an ancient Viking game or in a fun match of football billiards. You can also goof around with your little ones in the playground area.
The friendly goats
Swing by our gregarious goats and say hello to old Villy, cheeky Frida and little Mads. They are very tame and they love to eat grass right from your hand.
Creative craft workshop full of fun materials
Build and create whatever you wish, including mini creatures and characters, using any of our helpful tools and our mix of fun supplies.
Family food court, ice cream bar, forest shelter, grill and campfire
When you're hungry, or just feeling peckish, swing by our fun, kid-friendly food court where you can greet the giant butterfly, play with the water wall, and even spin a huge tree around with your bare hands! You are also welcome to enjoy a picnic meal or grill your own food in the shelter and campfire area. You can even roast popcorn, marshmallows or twisty bread here with your family and friends.
A fantastic day at a good price
We have plenty of space throughout the park, so it is easy for everyone to keep good and safe distance from each other. We have indoor spaces, too, but you can easily be outside during your entire visit, if you wish.
All park activities are free upon entry and there is free parking for all.
With the annual pass, you can come and go whenever you like, enjoying Denmark's best play park whenever the gates are open. Run, climb,crawl, splash, swing, feast and laugh with your family and friends all year round.
Seeya!
Destination Trekantomraadet © 2023