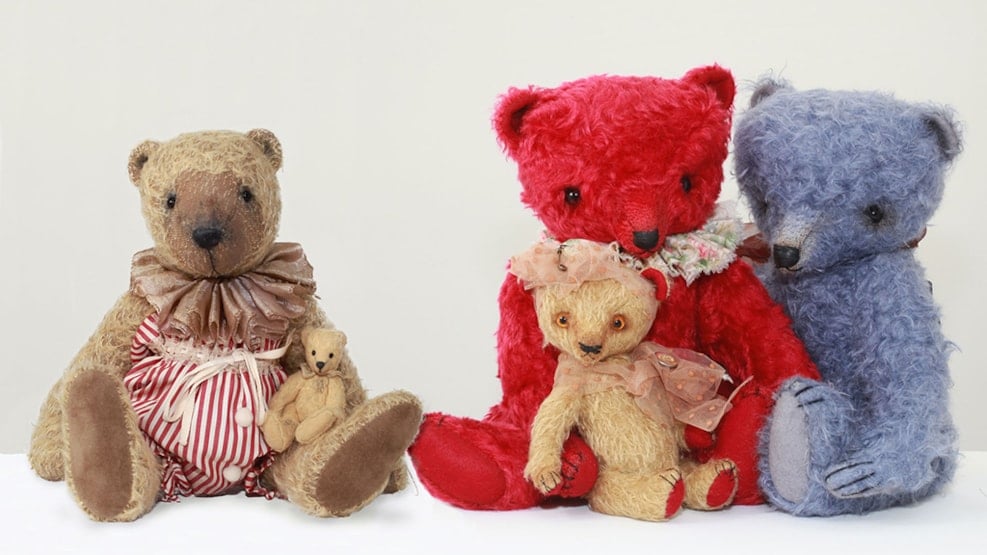 Teddy Bear Art Museum - Unique teddy bear museum
Enjoy the visit to the Teddy Bear universe and experience that teddy bears are not only toys but also art
Teddy Bear Art Museum is home to the LEGO family's former private home in the center of Billund. The museum is an architectural gem from 1959 on 776 m2 and is today home to over 1,200 teddy bears.
Enjoy the visit to the Teddy Bear universe and experience that teddy bears are not only toys but also art.The museum has many different exhibitions that show the charm of the Teddy Bears and great diversity. 
Get to know the history of the Teddy Bears.
2019 The special exhibition "STEIFF - from needle pillow to plush Teddys" shows 200 teddy bears, soft toys, tools and other objects from the world-renowned German toy manufacturer STEIFF's archives, things that have never been shown in Denmark and some of which are over a hundred years old.
The VanderBear exhibition - the world's largest private collection of those charming teddy bear families.
Alfonzo - the world's most famous red STEIFF Teddy Bear, owned by Princess Xenia whose mother was a Danish princess and the father, descendant of Zar Nicolai I of Russia.
Also enjoy the exhibitions with the Artist Teddy Bears and the Tableau Exhibition and let yourself be excited by the many fine details.
In Edith's living room there are nice little dolls, a complete Christmas Spooncollection and the family's christening dress 
In the bright and cozy Teddy Bear Café you can enjoy a good cup of coffee or tea, fresh pastries and a light lunch. From the café you have a view and access to the café terrace with the romantic rose and stone bed garden.In the Teddy Bear Shop you can find various bear related items and in the Teddy Making Shop we have everything you need to sew a teddy bear. 
The museum is surrounded by an enchanting park-like garden of 10,512 m2 - a true oasis in the middle of Billund. The garden is open to guests during the museum's opening hours. Enjoy a lovely walk and all the lovely flowers and trees in the garden.LEGO House is just a 1-minute walk away, 1.3 km from Legoland, 1.8 km from Lalandia, 3.8 km from Billund Airport and 24 km to Givskud Zoo. It's about. 75 km to the North Sea and 316 km to Skagen's Teddy Bear Museum
Destination Trekantomraadet © 2023