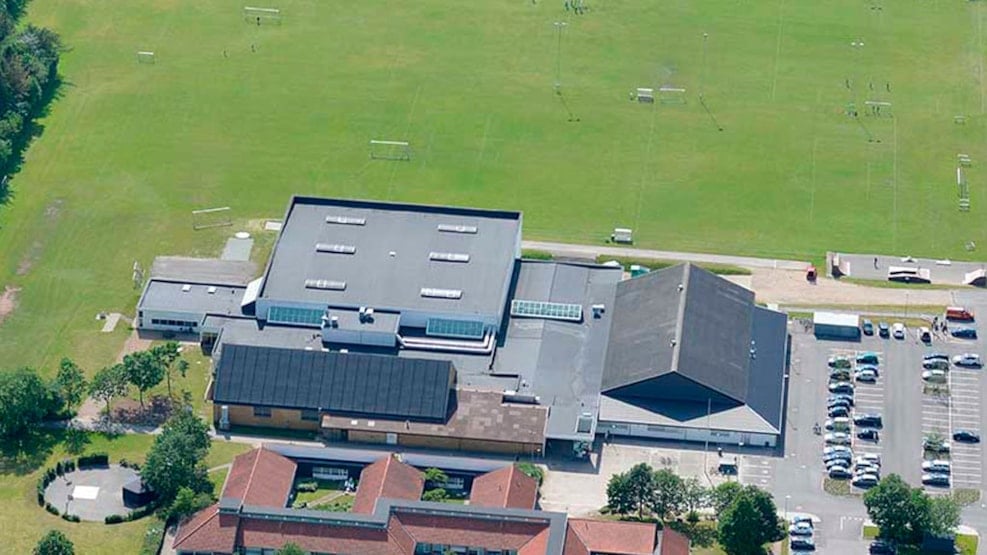 Arena Syd Vamdrup - Sports center in Vamdrup not far from Kolding
Big multi-hall at approx. 2000 m2 that can hold 2 training pitches, 10 badminton courts, 3 volleyball courts, 1 tennis court or 1 handball court.
Other use: All kinds of sports, concerts, conferences, exhibitions, etc.
The Multi Hall is equipped with 2 split sound system, a wall witch can divide the hall into 2 and other separation methods with net.
The Multi Hall has a good acoustics and there is a spectator balcony over the grandstand.

Culture Hall - NORDEA hall is approx. 175 m2 and can be used for many purposes. There is space for 150-200 people depending on seating. The room is suitable for lectures, small theatrical performances, musical events, conferences, but can also be used for banquets, sports, big screen room, etc. The Culture Hall has good acoustics and audiovisual equipment. The Culture Hall is divided from the Sports gallery by a folding façade, so the 2 rooms can be combined into one large room.

Sport Gallery is a multipurpose room. The room is designed so that you can come in off the street and do things as table tennis, climbing ropes and ribs or other creativity. It also serves as a reception area for larger parties. The gallery has changing art exhibitions.

Activity Street is the centre of Arena Syd. This is where you arrive and have access to all facilities. The street provides services for the public, for instance toilets, wardrobe and a play area for small children.
In Café Syd is room for approx. 100 guests. From the street and from the café there is direct access to the spectator balcony of the multi-hall.

Small multi-hall is a hall suitable for meetings with up to 200 participants. Also suitable for music, lectures and courses.
Destination Trekantomraadet © 2023