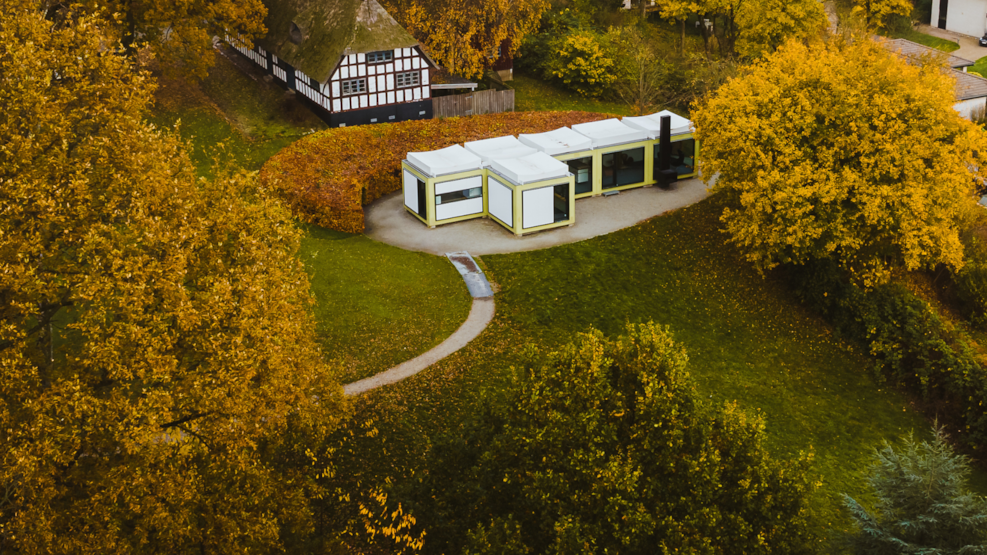 Autumn at Trapholt
Go exploring at Trapholt in the autumn and experience, among other things, the museum's new exciting exhibition about the design icon Nanna Ditzel.
Trapholt is an architecturally beautiful and inspiring art and design museum. The museum is surrounded by fantastic nature, with a view of Kolding Fjord, and offers a wide range of experiences and activities for visitors of all ages. Regardless of whether you are an art lover, a design enthusiast or just looking for a nice day out with the family, Trapholt is worth a visit during the autumn holidays.
Danish design in a special class
Nanna Ditzel is one of the greatest Danish designers of the 20th century, and for the first time ever her universe of inspiration and ideas unfolds in the exhibition Nanna Ditzel – Design to new heights.
It is the story of how you can unfold and develop if you are in touch with the inspiration that art, culture, nature and everyday life offer. Discover colorful furniture landscapes, iconic design, exhibition spaces that take you back in time and much more.
Are you ready to take design to new heights?
High Tea – an authentic British dining experience
Nanna Ditzel lived in London for almost 20 years and always served afternoon tea to her guests. Trapholt's café Gustav Lind was inspired by this and is now launching Ditzel High Tea as a morning meal. Get the full 'Nanna Ditzel experience' with a serving consisting of tea and various light dishes such as small pies, sandwiches, cakes and other snacks, before the tour goes into the exhibition.
Dining Week - enjoy a 3-course menu for DKK 250
Again this year, Gustav Lind is part of the Dining Week concept during the autumn holidays. The menu reflects the Danish season and local ingredients. It is "comfort food" presented as beautiful, tasty dishes. Enjoy a three-course menu for just DKK 250. Read more and see the menu here.
You can also enjoy a lunch with a view of the fjord or treat yourself to a piece of cake and a cup of coffee. The café and restaurant also have vegetarian and vegan options.
Design experiences and art exhibitions
Did you know that Trapholt has a unique house by the Danish designer Arne Jacobsen out in the park? The house is called Kubeflex and was designed way back in 1969-1970. Come on a free tour of Kubeflex, sit in Arne Jacobsen's world-famous furniture such as the Swan and the Egg and hear one of Trapholt's guides tell the story behind the unique modular house.
Also experience completely new paper works and sculptures by Danish Michael Kvium and Norwegian Kjell Erik Killi-Olsen. And feel how it feels to step into a painting in Malene Landgreen's solo exhibition Flow of Change.
Creative workshop and activities for children and childlike souls
As always, the autumn holidays offer the traditional creative workshop for children and childlike souls. This year, Trapholt focuses on the Danish designer Nanna Ditzel and her fascination with light and shadows. Create amazing formations limited only by your imagination. The creative workshop is open from 11-15. It is free to participate when the entrance to the museum has been paid. Remember that children and young people under the age of 18 have free entry to the museum.
Take a walk in the park
If the autumn weather is suitable, you and your family can go for a walk in Trapholt's beautiful park surrounded by sculptures and apple trees. With the museum's scenic location overlooking Kolding Fjord, the park appears as an extension of the museum visit.
In other words: Trapholt is the ideal destination for your autumn holiday. Whether you are interested in art, design, nature or creative activities, there is something for everyone.
The museum's opening hours in week 42 are Monday-Sunday at 10-17. Wednesday 10am-9pm.
Destination Trekantomraadet © 2023