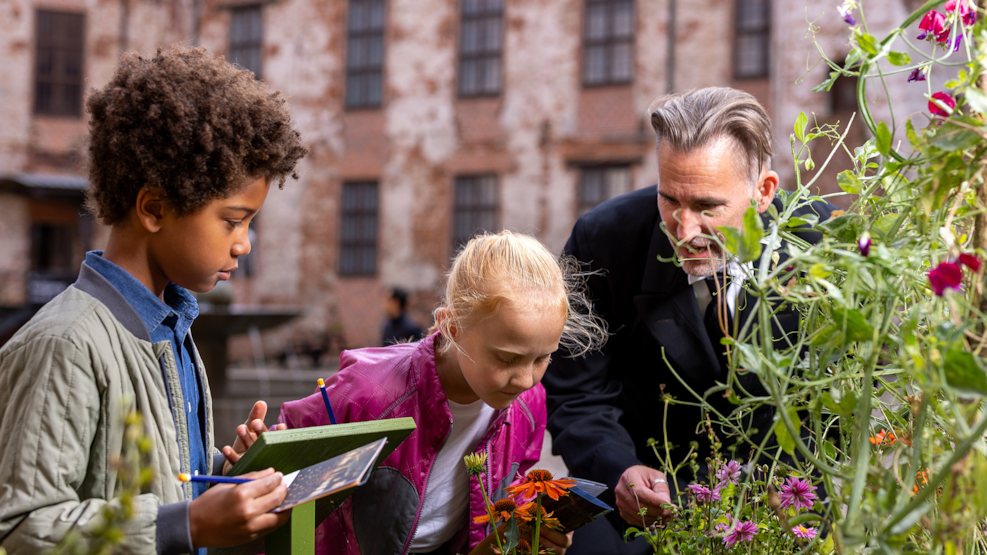 Experience autumn at Koldinghus
Become a plant detective at Koldinghus during the autumn holidays and go scavenge for plants like people did for the Flora Danica-porcelain.
October 15 - 20
Hunt for missing plants and rare flowers and help save nature.
Is there a detective in you? And do you want to join in the hunt for lost plants and rare growths? Then come to Koldinghus during the autumn holidays, where we will hunt for plants, just as they did over 200 years ago, when the Flora Danica work was created.
Here's what you can experience:
· Find stickers for your collector's booklet
· Go mushroom hunting in the exhibition "Flora Danica - The World's Wildest Frame"
· Look under a microscope and discover what seeds look like up close
· Count insects in the flower meadow and see how many different kinds you can find
· Create beautiful works of art with plant prints
· And much much more!
Read more about the event and the story behind it at koldinghus.dk.
The event is free when admission to the museum has been paid. Children and young people under the age of 18 have free entry.
Perhaps this could also be of your interest?
October 5
H.K.H. Prince Christian turns 18 – lecture, bubbles and chocolate https://www.kongernessamling.dk/koldinghus/post/prins-christian-fylder-18/
October 7
Til Bords med Kaptajnen – round trip, lecture and skipper lab woods https://www.kongernessamling.dk/koldinghus/post/til-bords-med-kaptajnen/
October 28
Embroider a bracelet with Flora Danica motifs https://www.kongernessamling.dk/koldinghus/post/broder-et-armbaand-med-flora-danica-motiv/
Destination Trekantomraadet © 2023