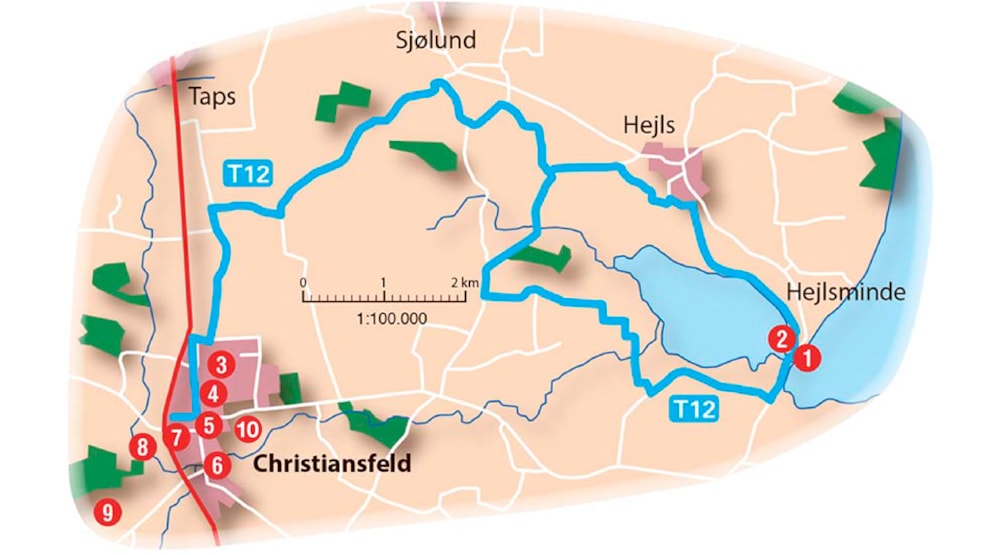 Hejls - Christiansfeld - Bicycle route from Hejls to Christiansfeld near Kolding
Discover a lot of attractions and sights on the beautiful trip from Hejls to Christiansfeld!
Hejls - Christiansfeld
The route from Hejls to Christiansfeld has something to offer every member of the family. It follows national route 5 and regional routes 10 and 51. Hejls and Hejlsminde are like pearls on a string facing the Little Belt, surrounded by water on three sides. At Hejlsminde, there is an attractive bike and walking trail around Hejls Nor. The terrain in the area is hilly and can therefore be somewhat challenging.
Christiansfeld is unique, as it was planned and constructed in accordance with the same pattern as Herrnhut, the Moravian Brethren's first German town. Most of the original town was built between 1773 and 1812, and the old part of town is today a lively cultural relic in the centre of town. Christiansfeld is known for its gingerbread, tiled stoves and the Moravian Brethren community, which built the town at the end of the 1700s. Enjoy a trip to Christinero, where the woodlands are full of small dams and natural springs. Try the guided tours around Christiansfeld and Christinero and the famous gingerbread baked according to an old recipe from 1799.
Sights
1. Hejlsminde havn
2. Slusen ved Noret
3. Gudsageren
4. Brønden Midtbys
5. Genforeningspladsen
6. Tyrstrup Kirke
7. Kirkesalen
8. Bulladen
9. Christinero

Accommodation

Hotels / Inns
Brødremenighedens Hotel
Campingpladser
Hejlsminde Strand Camping
Bed and Breakfast
Bondegårdsferie Vejstrupgård
Graus-bed/ferieværelse
Kobbersted Ferielejligheder


Tour suggestions 

T10: Kolding Ådal og Hylkedalen
T13: Middelalderruten
T14: Drejens Halvø
T15: Elbodalen
T16: Troldhedestien
T17: Kongeådalen
T18: Lillebælt Classic
T19: Østkystruten
See Links section for map. If you need GPX files for GPS, follow the link to the route map and download it from there.
Have a great trip!
Destination Trekantomraadet © 2023