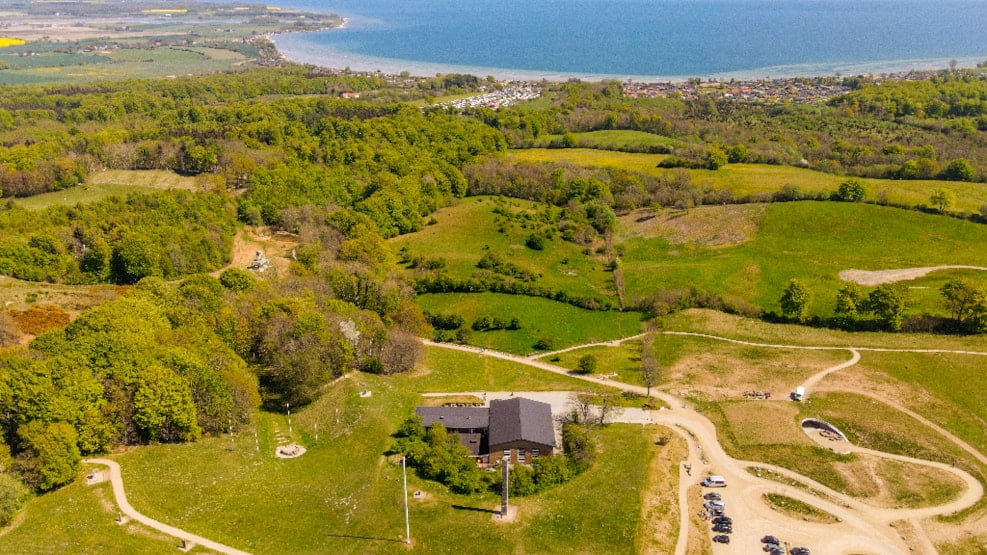 Skamlingsbanken - Beautiful unique nature in Kolding
Skamlingsbanken is beautifully located overlooking the Lillebælt. Here you will find both a restaurant and monuments from the past.

The hill, Skamlingsbanken, at 113 metres above sea level, one of the highest points in South Jutland.
Skamlingsbanken is located in beautiful natural surroundings with magnificent views of the whole region between Kolding and Christiansfeld. There are also views of the Little Belt to Funen and a long way into Jutland to the west. It's a fertile landscape with undulating fields, beech forests and hedgerows.

Skamlingsbanken is especially known for the gatherings that were held in support of the Danish cause in South Jutland in the years 1843-59. On Højskamlingen, is a 16-metre-high monument made of 25 granite blocks commemorating the defenders of the Danish cause in Schleswig. The monument was erected in 1863, blown up by the Prussians in 1864 and erected again in 1866. This reconstruction was possible because people in the area had collected and kept the stones. Near the monument are six other monuments and a platform of large stones. Around the platform are five groups of trees that symbolise the inseparability of the five Nordic countries. These trees are: Beech (Denmark), birch (Sweden), spruce (Norway), juniper (Finland) and rowan (Iceland).
After the liberation of Denmark in 1945, a monument was erected to the fallen of the South Jutlandic resistance movement.
Today, Skamlingsbanken is a popular excursion destination. At Skamlingsbanken there is a living and parking space, a visitor center with a café that communicates the history of Skamlingsbanken and a restaurant.