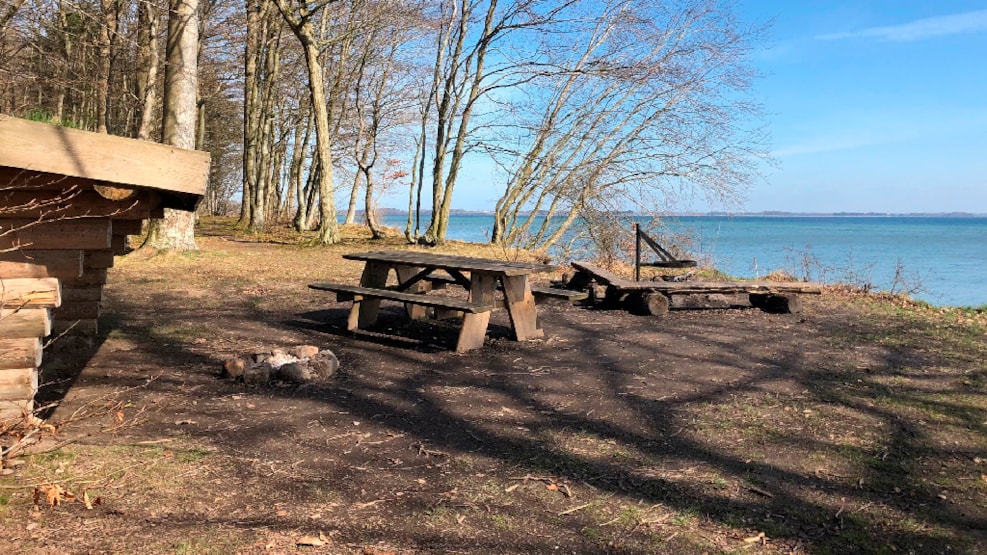 Stenderup Forest Shelters - Stay the night in the forest with a view of the Lillebælt
Stenderup Forest Shelters
In Stenderup Forest you will find two shelter sites. One located in Sønderskov and the other in Midtskov.
Stenderup Sønderskov Shelter
The shelter in Sønderskov is beautifully situated overlooking the water. At the shelter camp site you will find a shelter with a campfire, barbecue grill and a composting toilet. Remember to bring toilet paper, firewood and water yourself. The shelter site, which is located in the southernmost part of the Sønderskoven, is also called the Fawn Tree Square.
Parking: Drive along Frydenborgvej 8, 6092 Sdr. Stenderup and park at the parking lot halfway down the road. The site is in connection with a route marked by the parking lot, where a map table shows an overview of the trails in the forest. It is not possible to drive to the shelter.
Stenderup Midtskov Shelter 
The shelter site in Midtskov has a large "house" with room for a bonfire in the middle as well as built-in shelter places with space for approx. 25 people. The shelter space has a composting toilet, but please remember to bring toilet paper yourself. It is possible to fetch water at the corner of the tree fence.
Booking: The Shelter can be booked on the Naturstyrelsens website. If no one has booked the shelter, the place is accessible to everyone.
Destination Trekantomraadet © 2023