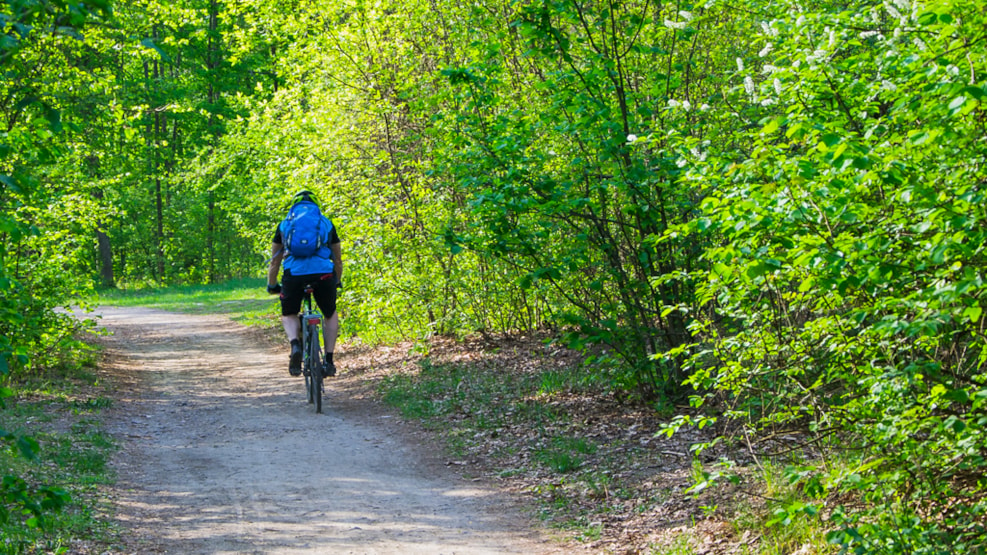 Troldhedestien - Route T16 - Bicycle route in Kolding for the whole family
Jordrup - Kolding
The route along the old Troldehedebane railway is ideal for the entire family. It follows national route 6 and parts of regional route 62. It is a comfortable ride without major inclines and takes you to Donssøerne and Ferup Lake. Both are ideal places to take a break and enjoy the view, and perhaps go for a walk.
At the old sluice house at Ferup Lake, we suggest you have a look at the exhibition on the large construction projects carried out in the area over the past 100 years.
The warehouse at Dybvadbro Station is another good place to stop to see the exhibition on Troldhedebanen, a private railway that operated from 1917 to 1968. The railway ran from Kolding to Troldhede in Central Jutland.
We also recommend that you enjoy the scenery along Vester Nebel Stream, which has wound its way back to the original course, as well as the large reforested area, Harte Forest. At the agricultural museum in Kolding, Landbomuseet, you can see the development from wheel plough to combine harvester and the tools that were used 100 years ago.
If you do a detour to Harteværket, you can learn about the history of hydropower. Today, Harteværket is a working museum offering visitors information about nature and cultural history.
Under "Links" at the bottom of the page you will find a link to the route in Naviki. Here you can register as a user, after which you can enter the route and save it under "my routes". Then you can download the Naviki app and open up and find the route under "my routes" to follow the route.
Sights
1. Marielundskoven
2. Fodboldgolf
3. Donssøerne
4. Dybvadbro Station
5. Det Gamle Slusehus
6. Landbomuseet Kolding
7. Harteværket
9. Sct. Nicolai Kirke
10. Koldinghus
Accommodation

Hotels / Inns
Bramdrupdam Kro og Hotel
Comwell Kolding
Hotel Kolding
Kolding Hotel Apartments
Saxildhus Hotel
Scandic Kolding
Campingsites
Dancamps Kolding
Hostels
Kolding Sportel
KFUM Sportellet
Danhostel Kolding

Bed and Breakfast
Geraldine Kristensen - Kilkenny House
Villa Gertrud
Mit Bed & Breakfast
Sysselbjerg B&B
Villa Terne v. Jeppe Løgstrup
Maybom Kolding
Tour suggestions 

T10: Kolding Ådal og Hylkedalen
T12: Christiansfeld
T13: Middelalderruten
T14: Drejens Halvø
T15: Elbodalen
See Links section for map. If you need GPX files for GPS, follow the link to the route map and download it from there.
Have a great trip!
Destination Trekantomraadet © 2023