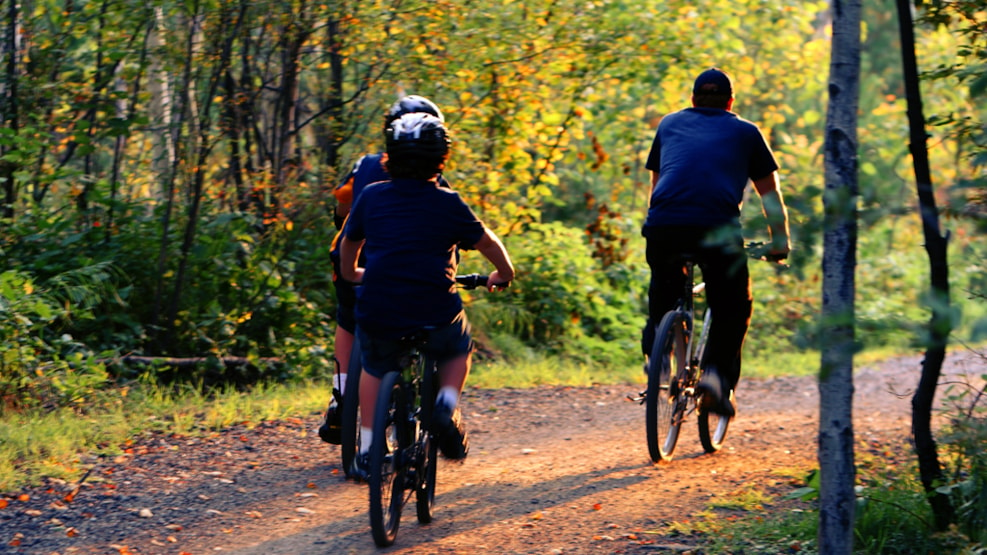 Kolding Ådal og Hylkedalen - Route T10 - A scenic cycle route around Kolding
Kolding - Seest - Vonsild
The River Valley route is a scenic bike route, which takes you through wide river valleys, with traces of both human and natural history. The route is not signposted, so it is important that you follow the instructions on the map. It takes you through Kolding River Valley past the Harteværket waterworks, which bears witness to the importance of the stream for Kolding's development. Harteværket is Denmark's first major hydropower plant and was built in 1918–1920. The power plant was built to cover the growing need for energy for lighting and manufacture at the time of the First World War.

Hylkedalen's attractive ice age landscape is characterised by river valleys and dramatic hills. Hylkedalen is intersected by Seest Mølleå stream and links up with Kolding River Valley. In the valley you can see cropped meadows and commons, which are home to rare species of plants
and fungi. If you enjoy heights and aerial ropeways, GoMonkey Park is the place to visit to challenge yourself. From Hylkedalen, the route continues through Vonsild to Djævlekløften along the gently flowing water of the Dalby Møllebæk stream. At Dalby Mill, it is worth stopping to enjoy the view of the spectacular meanderings that connect the stream with the inlet. Jutland's largest royal castle, Koldinghus, is located in the centre of Kolding. Here you can see various exhibitions and there is even an option to dress up as a king for a day. If you like shopping, Kolding has a wide selection of specialty shops, cafés and restaurants. During summer, you can hire a canoe and admire the town and its surroundings from the water.
Under "Links" at the bottom of the page you will find a link to the route in Naviki. Here you can register as a user, after which you can enter the route and save it under "my routes". Then you can download the Naviki app and open up and find the route under "my routes" to follow the route.
Sights
1. Koldinghus
2. Den spanske Trappe
3. Rådhuspladsen
4. Sct. Nicolai Kirke
5. Nicolai komplekset
7. Kolding Ådal
8. Harteværket
9. GoMonkey Kolding
10. Hylkedalen
11. Vonsild Kirke
12. Kolding Miniby
13. Geografisk Have
14. Dalby Kirke
15. Dalbymølle
16. Skulpturen "Vinger"
17. Å-stederne
Accommodation

Hotels / Inns
Comwell Kolding
Hotel Kolding
Kolding Hotel Apartments
Milling Hotel Saxildhus
Campsites
Dancamps Kolding - Camping
Hostels
Danhostel Kolding
KFUM Sportel
Kolding Sportel
Bed and Breakfast
Artist's B&B
Maybom Kolding
Mit Bed & Breakfast
Villa Terne v. Jeppe Løgstrup
Villa Gertrud
Tour suggestions
T11: Vandvejen ved Kolding
T12: Christiansfeld
T13: Middelalderruten
T14: Drejens Halvø
T15: Elbodalen
T16: Troldhedestien
T17: Kongeådalen
T18: Lillebælt Classic
T19: Østkystruten
See Links section for map. If you need GPX files for GPS, follow the link to the route map and download it from there.
Have a great trip!
Destination Trekantomraadet © 2023