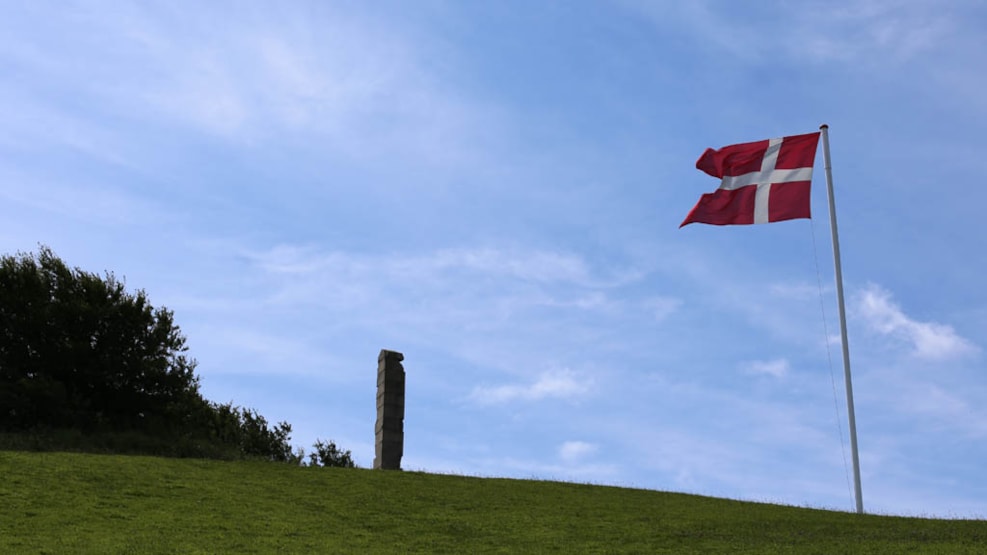 Vandvejen ved Kolding - Route T11 - Bicycle route in Kolding
Enjoy a wonderful bike ride along country roads around the Stenderup Peninsula, which juts out into the Little Belt!
Kolding - Sønder Stenderup - Sønder Bjert
The waterway is an attractive bike ride along Kolding Inlet. It follows national route 5 most of the way. The route starts at Koldinghus and continues to the Stenderup peninsula where you can enjoy beautiful views over Kolding Inlet and Lillebælt.

The old Stenderup forests, Nørreskov, Midtskov and Sønderskov, stretch along the coast of Lillebælt and offer an extensive network of paths. Here you can see the remainder of the large Farrisskov forest, which in the Middle Ages formed a belt across the whole of Jutland. In the forests, you can discover 5500-yearold dolmens and more than 3000-year-old grave mounds from the Bronze Age.
The route leads onwards to Solkær Meadows, a unique nature area with a lake, water-logged meadows and a rich bird life. Stop at Skamlingsbanken and experience one of Denmark's famous landmarks. Skamlingsbanken is 113 metres above sea level, and there are great views of the entire area between Kolding and Christiansfeld from the top. Skamlingsbanken is best known from the folk festivals that were held in the years 1843–1859 in support of the Danish cause in South Jutland. Today, Skamlingsbanken is a popular excursion spot. Since 1998, free opera concerts take place here during summer with up to 30,000 spectators.
Under "Links" at the bottom of the page you will find a link to the route in Naviki. Here you can register as a user, after which you can enter the route and save it under "my routes". Then you can download the Naviki app and open up and find the route under "my routes" to follow the route.
Sights
1. Koldinghus
2. Den spanske Trappe
3. Rådhuspladsen
4. Sct. Nicolai Kirke
5. Nicolai
7. Dalby Mølle
8. Skulpturen "Vinger"
9. Å-stederne
10. Sdr. Bjert Kirke
11. Skamlingsbanken
12. Solkær Enge
13. Skibelund
14. Stenderup Skovene
15. Løverodde
Accommodation
Hotels / Inns
Hotel Koldingfjord
Sdr. Bjert Kro
Saxildhus Hotel
Campsites
Dancamps Kolding 
Grønninghoved Strand Camping
Stensager Strand Camping
Hostels
Kolding Sportel
Bed and Breakfast
Artist's B&B

Juhls Bed & Breakfast
Tour suggestions
T10: Kolding Ådal og Hylkedalen
T12: Christiansfeld
T13: Middelalderruten
T14: Drejens Halvø
T15: Elbodalen
T16: Troldhedestien
T17: Kongeådalen
T18: Lillebælt Classic
T19: Østkystruten
See Links section for map. If you need GPX files for GPS, follow the link to the route map and download it from there.
Have a great trip!