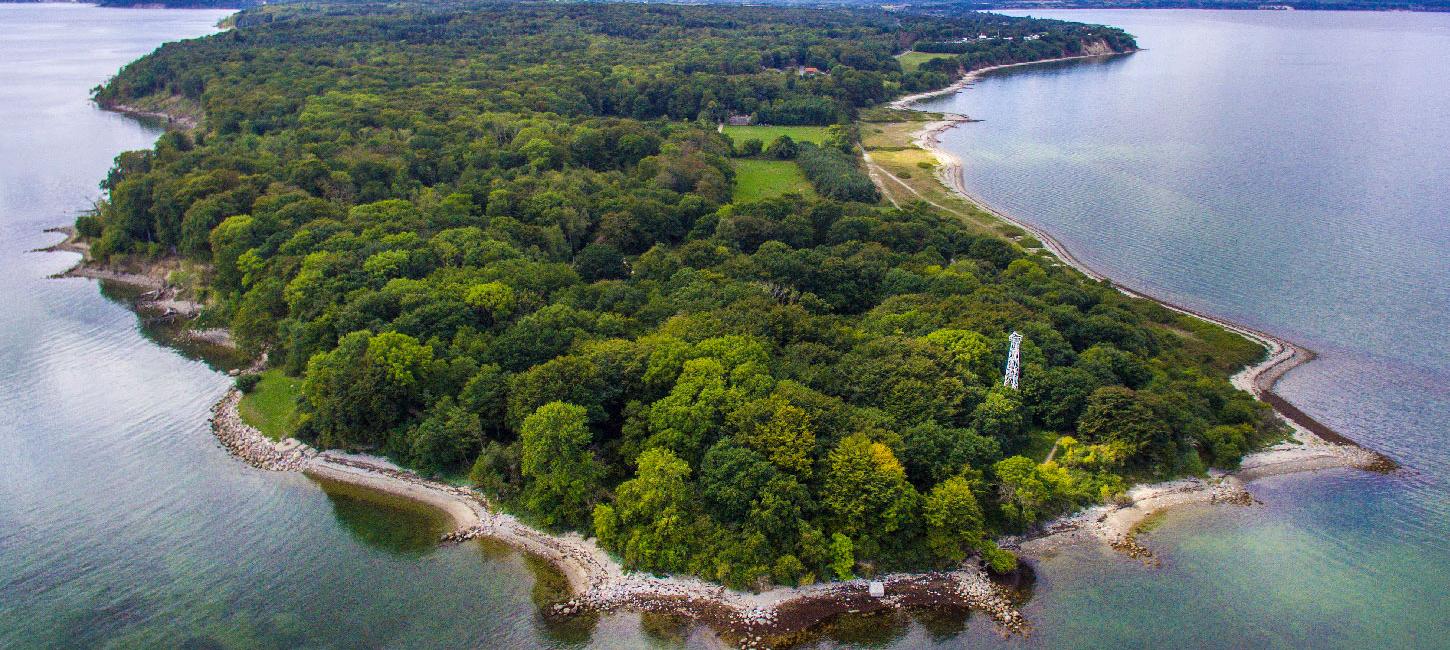 Naturpark Lillebælt
An astonishing waterway in heart of Denmark's largest marine nature park.
Lillebælt ("The Little Belt") is a unique waterway. Narrow as a river and with the strongest sea current Denmark's inland waters can muster. A number of rare plants and interesting animals thrive in the area, for example, orchids, white-tailed eagles and porpoises. Along the coasts, you can experience some of the most beautiful scenery in the kingdom, as well as cultural and historical gems. We want to promote all of this with Naturpark Lillebælt.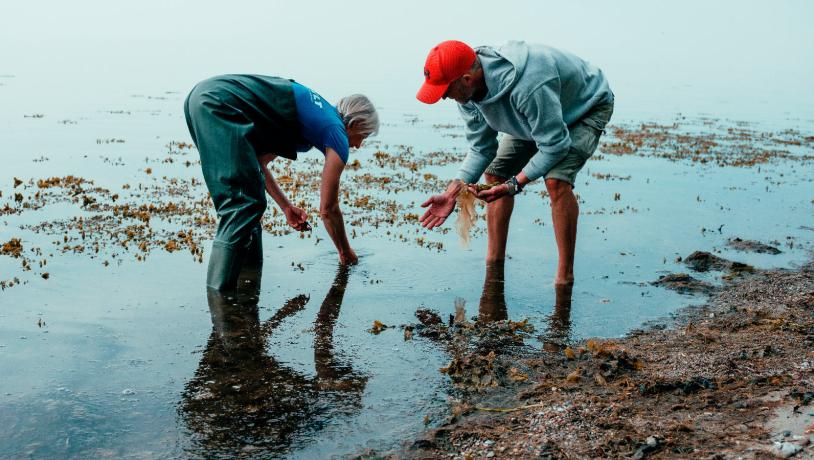 Photo:Destination Trekantområdet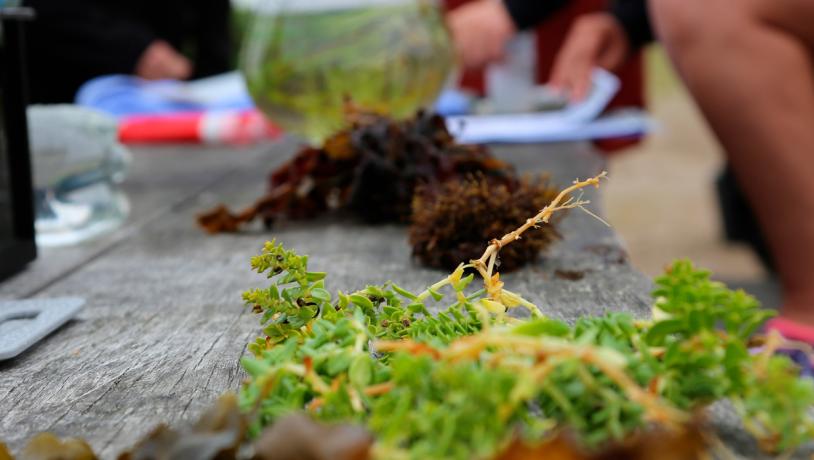 Photo:Visit Kolding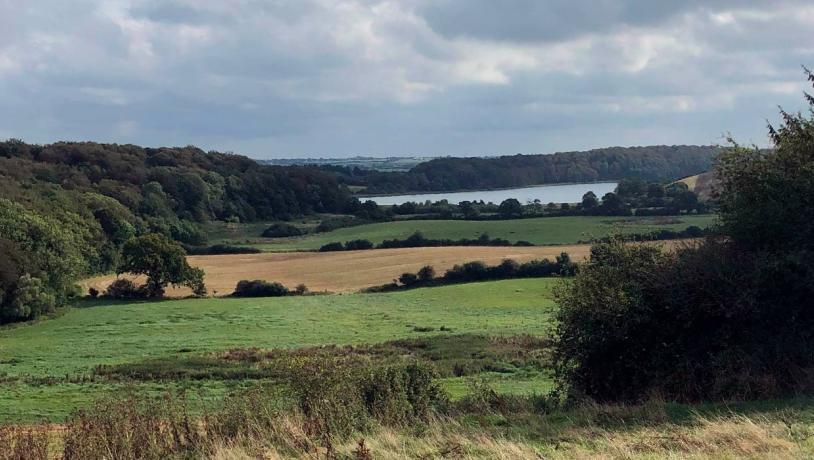 Photo:Visit Kolding
The unique nature
Every year, 40 billion cubic metres of water flow through Lillebælt. The seabed is kept free of loose material where the current is strongest. Elsewhere, the bottom is either soft or rocky. The variation is great. The water depth is up to 80 metres. And in the belt, the Kattegat's salty waters meet the Baltic Sea's fresh waters. As a result, the water is often stratified and, together with the varied bottom and strong currents, it provides unique living conditions for plants and animals. Conditions that mean, for example, that here we find one of the densest populations of porpoises in the world. Porpoises are the only whales that breed in Denmark, and the population in Lillebælt is about 3,000 porpoises. They find food easily.
Naturpark Lillebælt is Denmark's largest marine nature park, covering 370 km2. 201 km2 of these are protected.
A little belt full of big experiences
Lillebælt is more than the two well-known bridges, it is also the core of Naturpark Lillebælt - Denmark's largest nature park, where you will find a wealth of experiences.
Naturpark Lillebælt covers approximately 370 km2 from Hejlsminde in the south to Trelde Næs in the north. The sea covers as much as 70% of the area of the nature park.
Here you will find some of Denmark's most beautiful coastal nature. The beautiful scenery offers you a wealth of opportunities for experiences and activities unless you prefer to relax in the cozy harbour towns and country villages, where you can enjoy a rich and exciting cultural history.
In connection to the nature park is a number of a protected nature area as well as great parts of the mesmerising landscapes, which surround the belt. Those are areas that have an especially high value regarding nature. Amongst others are forest areas, great beaches, lime rangelands and wet meadows - all are conditions essential to the fact that animal and plant species do not go extinct.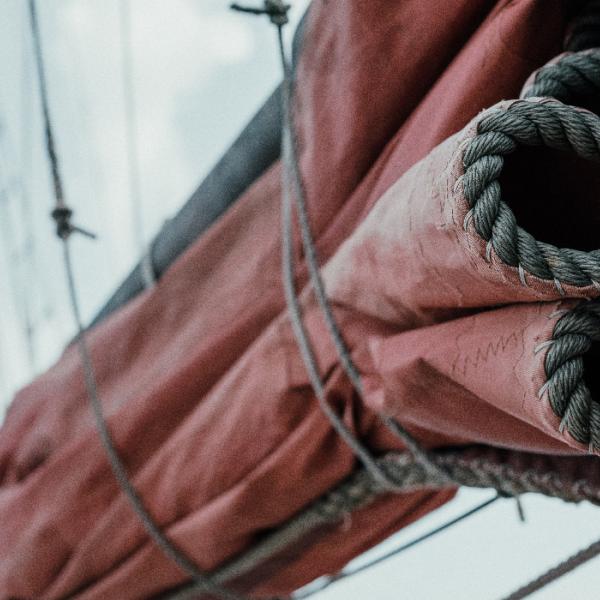 Photo: Destination Trekantområdet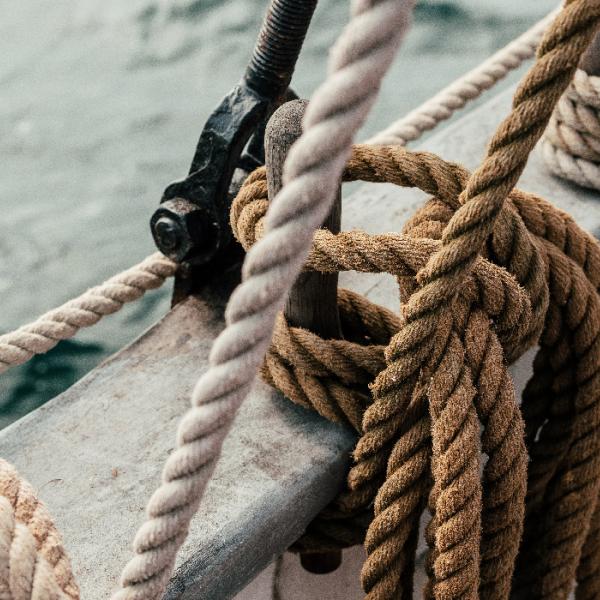 Photo: Destination Trekantområdet
About Naturpark Lillebælt
The aim of Naturpark Lillebælt is to create experiences that bring nature closer to local people and visitors to the area.
Naturpark Lillebælt will protect the unique countryside and, at the same time, develop and make it visible. The park will showcase the area's magnificent nature and bring people closer to nature.
Hub for migratory birds
Lillebælt is also an important hub for birds' migration routes, such as swans, geese, ducks and waders. Endangered birds of prey, such as white-tailed eagles, breed in the area. In large areas, you can find a number of protected orchids. The nature park is also home to several rare plants, that only grow in a few places in Denmark. Examples are long-bracted sedge, marsh lousewort and St Bernard's lily.
Experiences in Fredericia in Nature park Little Belt
Did you know that Lillebælt has one of the world's densest populations of the small whale, the porpoise? If you want to get a little closer to these whales, hop on one of the whale watching tour boats and enjoy a beautiful cruise on Lillebælt. Take in the waterfront views of the forested shores and the porpoises you are sure to spot on the surface of the sea along the way.
The whale watching boats sail throughout the summer with several weekly departures from Fredericia. The tours last 2-3 hours. You can buy tickets and get info about the tours at VisitFredericia.dk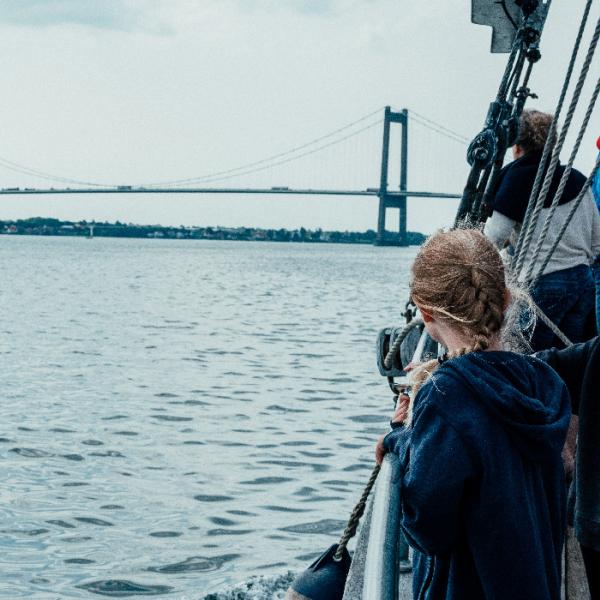 Whale watching in Lillebælt
Photo: Destination Trekantområdet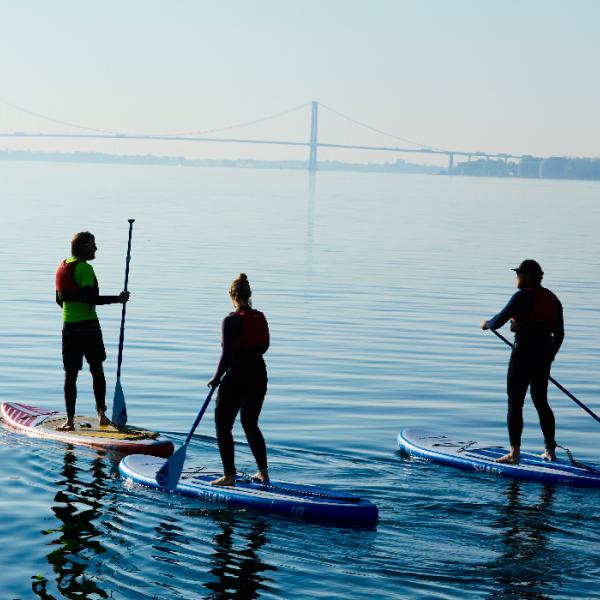 Water sports and activities in Fredericia
© Visit Fredericia
Photo: Visit Fredericia
If you like active experiences on the water, you can rent kayaks and SUP paddle boards at Kanalbyen in Fredericia. If you haven't tried Stand Up Paddle before, you can also hire an instructor along with the equipment.
Lillebælt is also a great area for divers. There are several excellent dive spots here, both shallow and deep, with everything from underwater trails to rocky reefs to wall dives so unique that they are on many a diver's bucket list.
Not everyone knows that Lillebælt is over 80 metres deep at its deepest point - deeper than Storebælt ("The Great Belt").
Join Naturpark Lillebælt's rangers on a seaweed safari and harvest your own fresh, edible seaweed directly in Lillebælt. Seaweed is incredibly healthy and can be prepared in many different ways, and you will get the best preparation tips from the rangers on the trip.  
Nature's larder also contains many other tasty treats. Go on a hike with the nature park guides or on your own and look for berries and mushrooms. There are several public forests where you are welcome to forage and gather.  
If you want to serve freshly caught food from Lillebælt, there are many good places to cast your line. Do it. Sit down and enjoy the calm and fresh sea air until a fish bites.  
There are also many crabs in Lillebælt. So many, in fact that they negatively impact the ecological balance. So, go crabbing and make a delicious crab soup or crab salad or something else entirely. When you catch crabs for dinner, you can enjoy fresh, local produce and help the marine environment at the same time.  
Experiences in Kolding in Naturpark Lillebælt
The area's geology is all glacial - not least because of the Lillebælt Glacier, which advanced from the south and southeast 14-15,000 years ago. The high point - the glacier's ice edge - reached a height of 113 metres and is known today as Skamlingsbanken. Here you can visit an important part of Denmark's national self-image as it was formed in the turbulent years from the mid-1800s to 1920. You will also find fantastic views and the opportunity for beautiful walks down to the water in a varied landscape of meadows, ponds, woodland and more.
Skamlingsbanken is considered to be one of the finest pastures in Denmark, with countless populations of orchids, such as the heath spotted-orchid and greater butterfly-orchid, and a few clusters of the endangered wolf's bane.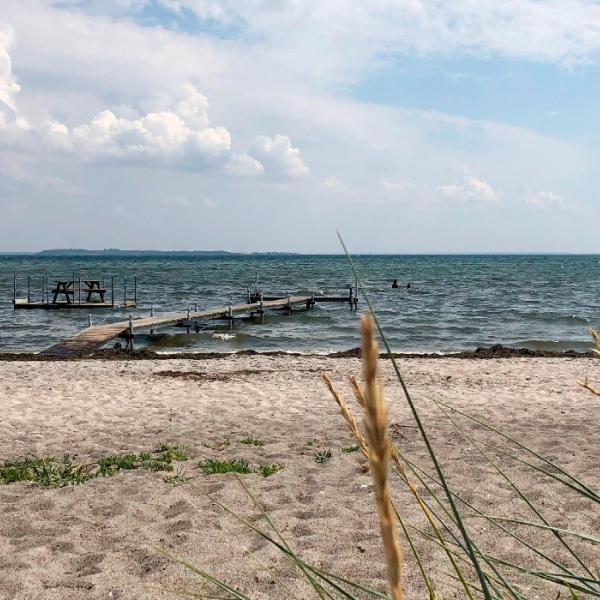 Hejlsminde Beach
Photo: Destination Trekantområdet
Today, Hejlsminde Beach is a large family-friendly activity beach with a beach volleyball court and promenade. The beach is child-friendly, with fine sand, a shallow shore and a bathing jetty. But from 1864-1920, it was a border town between Denmark and Germany. You can find a border stone at Havnevej 3. And the Customs Office was at Toldbakken 5. From here, the customs officer could see which ships were sailing into Hejlsminde.
The town's seaside hotel is another cultural and historical landmark. Built in 1912, it reflects the growing interest in holiday and leisure activities. Tourism was in its infancy and, at that time, was reserved for the wealthy few. They usually preferred a permanent base for their holiday - typically a seaside hotel or similar. Guests could arrive via the newly built Southern Railway, which stopped close to the hotel. The old fishing village was changing. The modern tourist was on the way.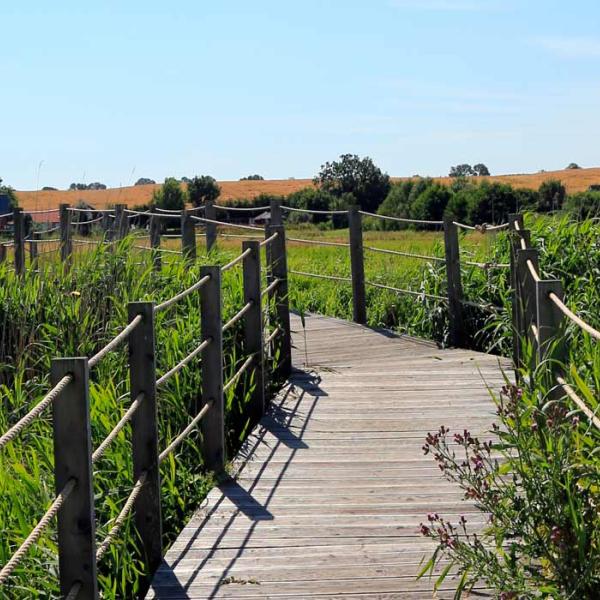 The small waters of Hejlsminde
The small waters of Hejlsminde offer good conditions for a varied bird and plant life. Along the waters you may experience the sea eagle and the piping plover sore the skies. You may enjoy the flowery orchids just before summer, as you stroll along the wodden bridge through the forest. The route has a length of 12 kilometres and includes various cultural explorations.
The nature park is 70% sea. The belt has water depths of up to 80 metres, providing unique flora and fauna conditions. Lillebælt can resemble a river as it's less than 1 km wide.
Go search for crabs
Photo: Destination Trekantområdet
The nature counseillor's best crab soup:
There are also many crabs in Lillebælt. So many, in fact that they negatively impact the ecological balance. So, go crabbing and make a delicious crab soup or crab salad or something else entirely. When you catch crabs for dinner, you can enjoy fresh, local produce and help the marine environment at the same time.
1 kg of shore crab
1 kg of vegetables (carrot, parsnip, onion, parsley root, celery, leek depending on your mood)
Thyme and bay leaves
1 good dash of brandy
1 bottle of dry white wine
Concentrated tomato puree
Fish stock (if you have - otherwise, water)
A couple of cloves of garlic
Good olive oil for frying.
Lemon, salt and pepper.
Cut the crabs in half lengthwise.
Cut the vegetables into pieces the size of a sugar cube.
Usually, the shore crabs are so small that you can't use the meat. But the bisque - it will be terrific.
Heat the oil in a large saucepan. It must be very hot. Add the halved crabs and fry for a few minutes. Pour in the tomato puree and thyme and fry for a few more minutes.
Add the brandy and flambé it (watch your hair). Let the flames die out and now add the bay leaves and your vegetables, fill up with white wine, and top with water or fish stock so it's all covered in liquid. Boil for about 30 minutes. Turn off the heat and leave the soup to infuse for 15 minutes. Then strain the soup. Use a sieve with large holes. Squeeze the contents of the sieve to get all the good stuff.
Boil the strained soup down to the appropriate consistency and taste. Add cream, and boil for a few more minutes. Season with lemon, salt and pepper.
Other experiences in nature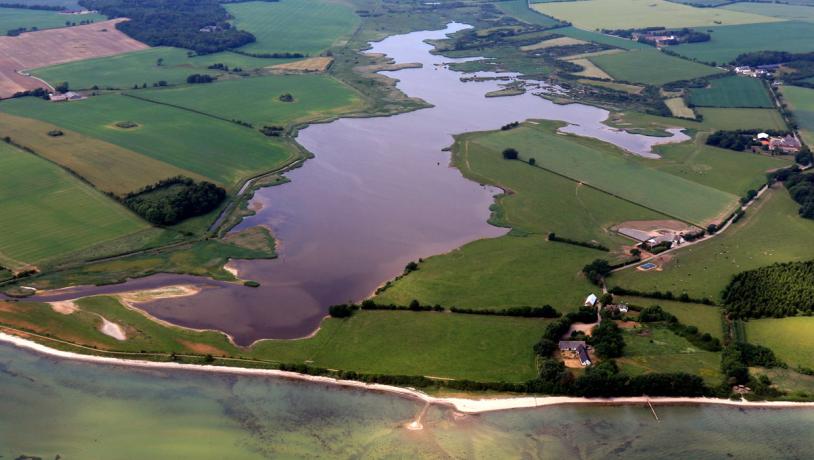 Solkær Meadows and Skibelund
Solkær Meadows and Skibelund is situated beautifully by Lillebælt – the beach is great for children and you will find tent spaces along side shelters.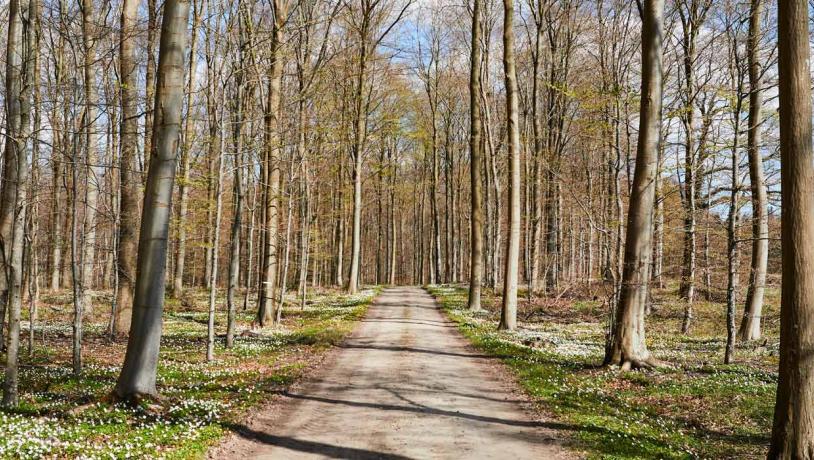 The Stendrup Forest and Løverodde Beach
The Stenderup Forest is a great forested area with broad woodland roads and at Løverodde Beach, there are good possiblities of bathing and swimming. You will also find cafés and toilets.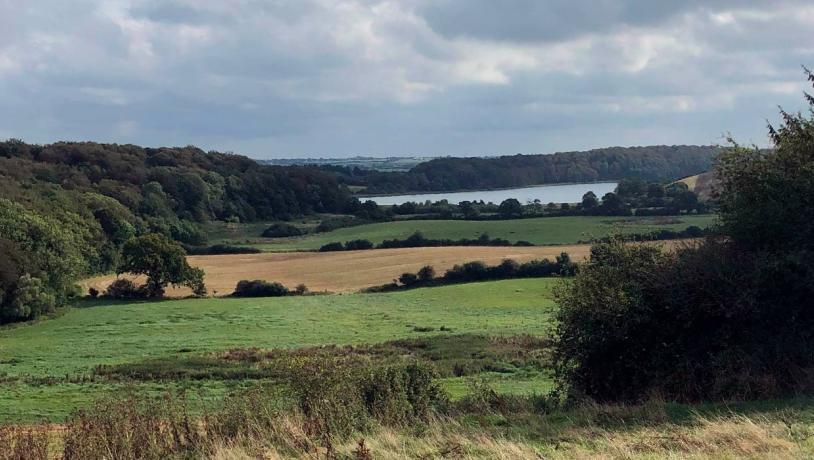 Houens Odde - Drejens
There are good possibilities for walks along the small lanes in the woods near Houens Odde at the peninsula called Drejens. At the end of the spit you can enjoy a great view of Kolding Fjord.